Users' advice for virtual server backups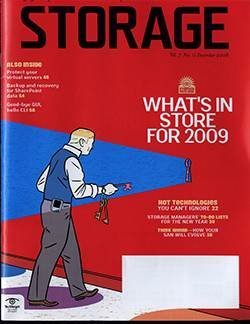 Download
Continue Reading This Article
Enjoy this article as well as all of our content, including E-Guides, news, tips and more.
By submitting your personal information, you agree that TechTarget and its partners may contact you regarding relevant content, products and special offers.
You also agree that your personal information may be transferred and processed in the United States, and that you have read and agree to the Terms of Use and the Privacy Policy.
at the vmworld virtualization conference in Las Vegas this past September, Symantec surveyed randomly selected conference goers about how they back up VMware servers. Only 127 people were interviewed, a sampling too small, says Sean Derrington, Symantec's director, storage and availability management group, for the results to be statistically valid. But anecdotally the survey revealed some interesting information.

Forty-one percent of respondents use two or more backup solutions to protect their servers. "In virtualized environments, we commonly see customers using image-level backups to protect their system data, and file-level backups to protect their application and user data," says Jon Bock, senior product marketing manager at VMware.

Bock adds that many customers augment existing backup tools with ones optimized for virtual environments--"tools that use VMware Consolidated Backup, tools that understand how to restore virtual machines directly to a virtualized server, and tools that understand that a virtual machine isn't tied to a specific physical server," he says.

Fifty-seven percent of those surveyed require two backups: one for single file and one for full image. Roger Mcilmoyle, director of technology services at TLC Laser Eye Centers in Atlanta, disagrees. His team performs only standard backups using open file agents for Microsoft SQL Server and Exchange.

"I see no point in having two different backup approaches because we're operating in an entirely virtual environment," he says.

However, Bock says two backups are common in physical and virtual environments. "The operating system and the application don't change as frequently as user-created data," he says, "so organizations commonly develop different processes around backup of those two types of data." He adds that some vendors are starting to release products that do image-level backups and also offer the ability to restore at both the file and image level.

Nearly one-third of respondents report that their backup success rate within a virtual environment is below 60%. Steven Craig, system and network admin at Romoland, CA-based Affordable Internet Services Online Inc. (AISO), says his backup success rate is "extremely high." AISO uses primarily NetApp filers that run regular snapshots of NFS data stores. "It's not that complex once you set it up," says Craig. "It runs itself."

Lara H. Baker is CTO at Sequestered Solutions Alaska LLC, a data managed-hosting provider in Anchorage. She says their backup success rate is above 80% with one exception: Microsoft Exchange 2007. Some installations of Exchange 2007 back up easily and cleanly; some, she says, always have problems. "One customer's installation caused us to have a daily meeting that started off with the question 'How'd the [Exchange] backups fail last night?'"

Brian Trudeau, CIO at Amerex Brokers LLC, an over-the-counter energy brokerage and a division of GFI Group Inc. in Houston, says "when we started hosting our mission-critical apps [SQL Server and Exchange] on VMware servers, there was a learning period of what to do and what not to do. Microsoft will give you a lot of grief if you tell them you're using VMware," he says.

The top challenge for respondents in providing high availability and disaster recovery (DR) for mission-critical apps in virtual servers is that managing different tools for physical and virtual platforms is complex and expensive. Today, TLC Laser Eye Centers' storage environment is almost 100% virtual, and Mcilmoyle says "our DR and business continuity have significantly improved [because] virtualization enables additional layers of DR that aren't possible within a physical environment. The most obvious is being able to control oversubscription of hardware resources and the abstraction of the hardware layer allowing recovery to any physical platform capable of virtualization."


--Rich Friedman
Dig Deeper on Storage virtualization
PRO+
Content
Find more PRO+ content and other member only offers, here.