USB Drives Make Small Work of Large File Transfers
The market has seen a flood of small plug-and-play USB storage devices that have ample capacity.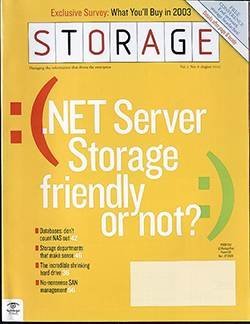 Download
Used to be when you wanted to store large files or transfer information between systems or users, you had better...
Continue Reading This Article
Enjoy this article as well as all of our content, including E-Guides, news, tips and more.
By submitting your personal information, you agree that TechTarget and its partners may contact you regarding relevant content, products and special offers.
You also agree that your personal information may be transferred and processed in the United States, and that you have read and agree to the Terms of Use and the Privacy Policy.
be running on a network. As of late, though, the market has seen a flood of small plug-and-play USB storage devices that have ample capacity - some as much as 40GB - and fit in the palm of your hand.
Take the Pocketec, for example, a palm-sized USB 2.0 device which comes in 20GB, 30GB and 40GB versions, starting at $199.95. Even smaller is the GO!Drive, a flash device by SunnTek which weighs in at a .53 ounces, is the size of a pen and can hold up to 2GB.
Sure, being able to store multiple megabytes, or even gigabytes, in a device that can fit into your pocket sounds cool, but how useful is this to your average business user?
Although portable drives aren't going to replace classic storage methods anytime soon, corporate types are finding plenty of applications for these gadgets. Ken Schmidt, director of marketing for SunnTek, says customers are using the devices for everything from storing on-the-go presentations - instead of dragging their laptops to a presentation, employees can plug in the device to an existing laptop - to letting employees back up their personal data. Or how about this one - instead of clogging up the network with enormous e-mail attachments, encourage users to transfer files using a portable drive. Certainly beats upgrading the network.
Dig Deeper on Solid-state storage
PRO+
Content
Find more PRO+ content and other member only offers, here.