Thin (or chubby) provisioning catching on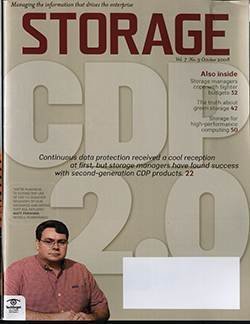 Download
Continue Reading This Article
Enjoy this article as well as all of our content, including E-Guides, news, tips and more.
By submitting your personal information, you agree that TechTarget and its partners may contact you regarding relevant content, products and special offers.
You also agree that your personal information may be transferred and processed in the United States, and that you have read and agree to the Terms of Use and the Privacy Policy.
A FLURRY OF THIN-PROVISIONING launches from major vendors in the last year brought the technology into the mainstream, but questions remain about who is best served and the best method for implementing it.

To recap, Hitachi Data Systems began offering what it calls dynamic provisioning in its Universal Storage Platform V (USP V) systems last November. EMC brought out virtual provisioning on its high-end Symmetrix platform in January and added it to midrange Clariion systems in July. IBM rolled out its Space Efficient Virtual Disks on its SAN Volume Controller virtualization appliance in June.

With all of these different names for thin provisioning, about the only thing you can expect vendors to agree on is that customers are looking for the feature first made popular by smaller vendors such as 3PAR and Compellent. But not all customers are asking for it.

"Thin provisioning's becoming a standard feature, just like all RAID levels, snaps and replication," says Greg Schulz, founder and senior analyst at StorageIO Group in Stillwater, MN. But not all customers demand it. "It's perceived as keeping up with the Joneses."

Craig Nunes, 3PAR's VP of marketing, estimates that 75% of 3PAR customers use thin provisioning, which is probably the best-known feature of its InServ Storage Server systems. The best candidates are Internet companies and service providers that rely on files rather than databases, as they typically start small and add capacity as business grows.

Woburn, MA-based SupplyScape, which uses a software-as-a-service (SaaS) model to provide supply-chain optimization for life sciences companies, is one 3PAR customer that uses thin provisioning. John Kordash, SupplyScape's director of operations and architecture, says it helps him keep utilization rates high yet add capacity efficiently.

"In the SaaS business, I see thin provisioning as a critical component," says Kordash. "As our customers' data requirements have grown, we've added physical storage to match. Because we've provisioned volumes to host as if we were much bigger, we can do that without service interruption."

But Kordash knows thin provisioning isn't for everybody. "Thin provisioning is a choice you make based on the way you're architecting your systems," he says. "Maybe there are situations where it doesn't make much sense."

Those situations include large databases where utilization is predictable, says Barry Burke, chief strategy officer for EMC Symmetrix. Those large, high-transaction databases make up a big segment of Symmetrix customers, but Burke says virtual provisioning is showing up more in systems used for tier two and tier three applications and newer Symmetrix implementations.

"Is everybody using it? Probably not," he says. "We see a higher percentage with new systems going out than with the installed base." Burke says he envisions more customers using virtual provisioning because it's easier than traditional allocation methods.

"You can use a virtual pool strategy and create a LUN that's fully allocated, and spread data across lots of spindles efficiently," he says.

The broader availability of thin provisioning has also widened debate among vendors over what makes it effective. 3PAR CEO David Scott has taken to calling the newer thin-provisioning offerings from EMC, Hitachi and IBM "chubby provisioning." According to Nunes, there's a "great divide" between thin provisioning built into systems from 3PAR, Compellent and iSCSI vendors EqualLogic (now part of Dell) and LeftHand Networks from the start vs. "bolted on" thin provisioning from the larger vendors.

Nunes says chubby-provisioning implementations require capacity to be pre-dedicated in pools, and to use chunk sizes (storage capacity used during a write) in the megabytes rather than kilobytes.

Hitachi Data Systems provisions capacity in 42MB pages, which it stripes across devices or RAID sets. Hu Yoshida, CTO at Hitachi Data Systems, argues this method is more effective than 3PAR's chunking. "Megabytes were a lot of capacity five years ago, but not now," he says. "When provisioning kilobytes, you have to go to the well many more times."

Burke says the differences in pool and chunk sizes are less important than adding monitoring and alarms to tell customers when they need to add storage to prevent runaway applications.

SupplyScape's Kordash agrees, noting that another issue is ease of adding capacity when needed. "It's been a manageable process for monitoring and alerting," he says of 3PAR. "We've provisioned more storage more than once, and had no issue in the adding or using of that physical storage."


--Dave Raffo
Dig Deeper on SAN technology and arrays
PRO+
Content
Find more PRO+ content and other member only offers, here.