Tape library scales up and down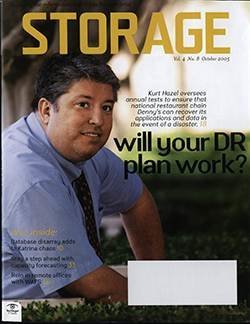 Download
Quantum's PX500 tape library obeys the law that what goes up must come down.
Continue Reading This Article
Enjoy this article as well as all of our content, including E-Guides, news, tips and more.
By submitting your personal information, you agree that TechTarget and its partners may contact you regarding relevant content, products and special offers.
You also agree that your personal information may be transferred and processed in the United States, and that you have read and agree to the Terms of Use and the Privacy Policy.
The PX500 series, announced late this summer, has a rackmount form-factor and "the ability to descale and redeploy," says Ted Oade, Quantum's director of automation product marketing. "Within three years, almost 50% of libraries are redeployed," he says. As larger libraries come online, older ones are recycled to other parts of the organization.
Assembling--or disassembling--the library is designed to be easy. There's no cabling involved because the libraries communicate via infrared. The existing robot allows cartridges to move between adjacent units using a scissor-jack mechanism.
The PX500 series can be used with SDLT, LTO-2 or LTO-3 drives, and comes in three configurations: the 4U twodrive, 38-slot PX502; the 10U six-drive, 100-slot PX506; and the 18U 10-drive, 201-slot PX510. The libraries can be joined in any combination provided they don't exceed the height of the rack.
Dig Deeper on Storage Resources
PRO+
Content
Find more PRO+ content and other member only offers, here.