Survey Says: SATA has staying power
SATA has staying power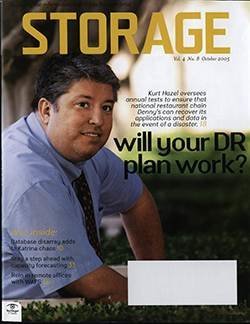 Download
Continue Reading This Article
Enjoy this article as well as all of our content, including E-Guides, news, tips and more.
By submitting your personal information, you agree that TechTarget and its partners may contact you regarding relevant content, products and special offers.
You also agree that your personal information may be transferred and processed in the United States, and that you have read and agree to the Terms of Use and the Privacy Policy.
What do storage professionals want? SATA, SATA and more SATA. At least, that's what TheInfoPro has found in its last three surveys of storage professionals, which are conducted every six months. In all three surveys, SATA has ranked No. 1 in its "Heat Index"--a function of near-term spending and immediacy of implementation. Other trends TheInfoPro identified when reviewing its Wave 3 (Spring 2004), Wave 4 (Fall 2004) and Wave 5 (Spring 2005) surveys, were that users strongly preferred virtual tape as an alternative to tape-based backup; IP SANs have "cooled off " somewhat as storage pros wait for product maturity; and storage security appliances have been slow to catch on.
Source: http://www.theinfopro.net
Dig Deeper on Storage market research reports
PRO+
Content
Find more PRO+ content and other member only offers, here.