Storage software sales still brisk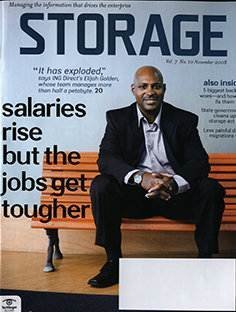 Download
Continue Reading This Article
Enjoy this article as well as all of our content, including E-Guides, news, tips and more.
By submitting your personal information, you agree that TechTarget and its partners may contact you regarding relevant content, products and special offers.
You also agree that your personal information may be transferred and processed in the United States, and that you have read and agree to the Terms of Use and the Privacy Policy.
the tough economy doesn't appear to be dampening the demand for storage software. The worldwide market cracked the $3 billion milestone for the first time in a single quarter during this year's April-to-June stretch, according to recent research from Framingham, MA-based IDC.

"Going over $3 billion is a nontrivial event and an indication of how important storage software is to the various tools that people have at their disposal," says James Baker, a storage software research manager at IDC.

The $3.1 billion second quarter marked a 6% increase over the first quarter and an impressive 14% jump over the same timeframe a year ago. It also signaled the 19th consecutive quarter of growth, comparing revenue totals for the same quarters on a year-to-year basis.

EMC continued to outpace all rivals, banking $745 million in the second quarter for a 24% share of the market. Symantec made headway at No. 2, with $588 million for a 19% share--and nearly 27% over its Q2 2007 revenue. Rounding out the leaders were IBM, NetApp, Hewlett-Packard and CA.

Either EMC or Symantec topped six of the seven major storage software categories IDC tracks. Symantec commanded 35% of the most lucrative market segment--data protection and recovery software. "What has happened is that the benefits of having data protection are just as important for the small- and medium-sized businesses," says Baker, "maybe even more so, because they can't withstand interruptions at all."

Overall, the storage replication market was the only one to dip slightly from the typically sluggish first quarter of 2008 to the second quarter of this year, despite an overall growth of 7% vs. the second quarter of last year. Baker says some users may be buying less general-purpose replication software because they get the feature bundled in with other products. IDC views the decrease as a "bit of a blip" and continues to project double-digit growth for the long term.

Every other storage software segment grew at least 5% from the first to the second quarter, including two in the double digits: file-system software, led by Symantec's $102 million; and storage management, topped by EMC's $101 million. EMC also dominated storage device management software with a 64% share of total second-quarter revenue.

But Symantec overtook EMC in storage infrastructure software, taking a 29% share to EMC's 26%. IBM topped the archiving space, with 27% of the quarter's $305 million.


--Carol Sliwa
Dig Deeper on Storage market research reports
PRO+
Content
Find more PRO+ content and other member only offers, here.