Storage automation still not a no-brainer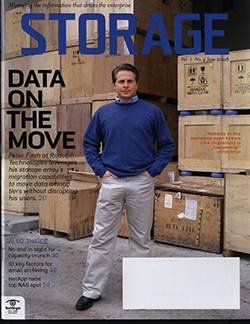 Download
Continue Reading This Article
Enjoy this article as well as all of our content, including E-Guides, news, tips and more.
By submitting your personal information, you agree that TechTarget and its partners may contact you regarding relevant content, products and special offers.
You also agree that your personal information may be transferred and processed in the United States, and that you have read and agree to the Terms of Use and the Privacy Policy.
Chalkley Matlack, senior network administrator at doeLegal LLC, a Wilmington, DE-based legal support platform provider, used to spend about half his day replicating data to his disaster recovery (DR) site. Now, says Matlack, "Automation has cut my time down to going in each morning for maybe half an hour and checking the status of things."

Matlack uses storage automation software--also called self-service storage--from RelData to schedule his company's DR replication. Storage automation lets admins set up policies for provisioning new servers or LUNs, or cloning databases, among other tasks. David Hubbard, RelData president and CEO, says automation is coded into the Relbots product, not just tagged on with a bunch of scripts.

Patrick Rogers, VP of solutions marketing at NetApp, claims his firm's automation products eliminate the time spent cutting through internal help desk red tape. Rogers says NetApp's Provisioning Manager and Protection Manager allow storage admins to set policies so that application admins can self-manage and self-provision their storage. "It would be nice if it was completely automated," he says, "but you still need someone to establish the policy."

"Task automation is the first step," notes Kalyan Ramanathan, director of product marketing for Storage Essentials in Hewlett-Packard's (HP) Business Service Automation Suite Group. "But where we need to go is to process automation, which requires you to think about your IT service as a whole."

Currently, "storage automation is definitely not as mature as server automation and network automation," says Ramanathan. Run-book automation technology, which HP acquired with its Opsware purchase in 2007, integrates across different data center systems. But it's not yet part of the storage realm.

Andrew Reichman, senior analyst at Forrester Research in Cambridge, MA, agrees that storage lags behind server automation. There's also some cultural resistance. "Automation addresses acutely felt pain points," says Reichman, "but when it comes time to put it into place, and it means a different product or vendor, that's painful, too." He adds that more automation can be tough for those in a manual, Fibre Channel storage world.

But storage admins shouldn't worry that automation will replace them yet. For Keith Scott, IT analyst at the Department of Human Assistance for the County of Sacramento, automation allows him to take weekends and holidays off. "If you can rely on [automation]," he says, "you're not sitting there, eyes glued to the screen, saying, 'OK, did it work?'" Scott uses NetApp's Protection Manager to manage offsite snapshot mirroring.

But storage automation also has to be worth an admin's while. When Matlack wants to create a file system, he does the familiar three-step process himself. "It's just as easy for me to create it," he says. "Plus that gives me a little finer granularity of control over it that I wouldn't have with a wizard."

Matlack believes that starting out using automation with a new device becomes a habit. "If you've never done it manually, you'll use the automation until there's a problem," he says. "Then all of a sudden you're going to get involved in the guts of the thing."

--Christine Cignoli
Dig Deeper on Storage management tools
PRO+
Content
Find more PRO+ content and other member only offers, here.