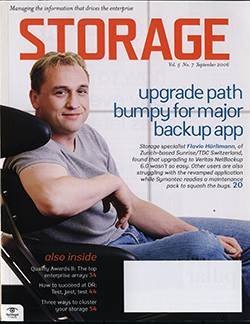 Download
EqualLogic PS400E: First SAN array available featuring Seagate 750GB SATA disk drives. With 14 drives in the enclosure,...
Continue Reading This Article
Enjoy this article as well as all of our content, including E-Guides, news, tips and more.
By submitting your personal information, you agree that TechTarget and its partners may contact you regarding relevant content, products and special offers.
You also agree that your personal information may be transferred and processed in the United States, and that you have read and agree to the Terms of Use and the Privacy Policy.
the PS400E can hold up to 10.5TB of capacity. It also features Version 3.0 of EqualLogic's firmware, whose "SAN within a SAN" technology allows storage pools to be created on the basis of capacity and performance characteristics for use by different apps.
NetEffect NE010x: First Ethernet Channel Adapter (ECA) to fully implement the iWARP memory data transfer standard, including the Remote Direct Memory Access, Direct Data Placement and Marker-based Protocol-data-unit Aligned protocol stacks. In tests, the NE010x adapter showed end-to-end latency of less than 10 microseconds, a performance record for iWARP implementations, the company claims. The NEO10x ECA is designed for networking, storage and clustering applications that require a low-latency Ethernet fabric.
Dig Deeper on SAN technology and arrays
PRO+
Content
Find more PRO+ content and other member only offers, here.