Solid State Disk: Coming Soon to a SAN Near You
It's commonplace to find disk subsystems and tape drives on the SAN, but that's not always the case for solid state disk (SSD).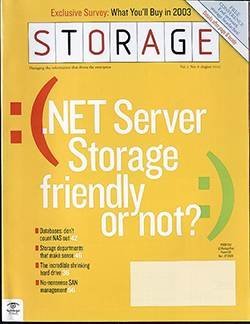 Download
It's commonplace to find disk subsystems and tape drives on the SAN, but that's not always the case for solid state...
Continue Reading This Article
Enjoy this article as well as all of our content, including E-Guides, news, tips and more.
By submitting your personal information, you agree that TechTarget and its partners may contact you regarding relevant content, products and special offers.
You also agree that your personal information may be transferred and processed in the United States, and that you have read and agree to the Terms of Use and the Privacy Policy.
disk (SSD).
Even though SSD vendors have been selling FC-attached products for a couple of years now, the reality is that "the bulk of our clients are using it in direct-attached SCSI configurations," says Mike Casey, vice president of market development at Solid Data Systems.
That has a lot to do with the nature of how end-users deploy solid state disk - as stopgap solutions to specific application performance problems - for example, hot (frequently accessed) database objects.
But the SSD tradition isn't slowing down SSD vendor Imperial Technology, which recently joined forces with FC vendor QLogic to sell an SSD and SAN bundle that consists of Imperial's SANaccelerator file cache and QLogic's SAN Connectivity Kit 1000, priced just under $35,000.
Imperial already sells about 50% of its caches with a Fibre Channel interface, says Imperial marketing manager Jeff Hansen, and with the help of the QLogic bundle, hopes to make its SSD products appealing to what he terms "the next wave of SAN implementations - the small- to medium-sized business."
Failing that, what should really help SSD take off in the SAN is the advent of policy-based management, says Solid Data's Casey. Basically, "you want to put a small part of application data on our cache, which today is a manual task." Eventually, though, technology will emerge that will allow hot files to migrate to SSD automatically.
Look for that functionality to emerge out of partnerships between SSD and virtualization vendors the likes of FalconStor and DataCore, says Imperial's Hansen, probably by early 2003. "Virtualization will allow SSD to be spread around the SAN easily," he says, which will allow you to "always have your hottest data on your fastest device."
Dig Deeper on Solid-state storage
PRO+
Content
Find more PRO+ content and other member only offers, here.