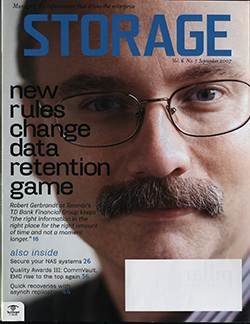 Download
Sony has announced the end of life for the first generation of its Super AIT tape drive. The last shipment is expected...
Continue Reading This Article
Enjoy this article as well as all of our content, including E-Guides, news, tips and more.
By submitting your personal information, you agree that TechTarget and its partners may contact you regarding relevant content, products and special offers.
You also agree that your personal information may be transferred and processed in the United States, and that you have read and agree to the Terms of Use and the Privacy Policy.
to occur next month, say Sony representatives. SAIT-1 media will continue to ship and SAIT-1 tape drives currently in use will continue to be supported by Sony.
Information regarding the SAIT-2 roadmap hasn't been released, and it looks as if Sony may be the only company supporting the format. Quantum supports only DLT and LTO formats, and Qualstar has halted construction of new TLS and RLS SAIT tape systems. Uncertainty about SAIT's future may deter users from investing in the technology.
"They [Sony] are the only ones that are using it, so it's going to be more expensive," says W. Curtis Preston, VP of data protection at GlassHouse Technologies, Framingham, MA. "You have to question why somebody would buy a media that they [Sony] have not announced any further roadmap for that technology, even for their own use."
--Trina MacDonald
Dig Deeper on Storage Resources
PRO+
Content
Find more PRO+ content and other member only offers, here.