Manage
Learn to apply best practices and optimize your operations.
Snapshot: How do you get backups offsite?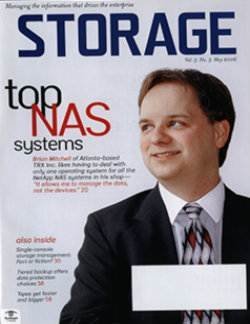 Download
Kudos to Storage readers for consistently getting their backup data offsite, as required by any good disaster recovery...
Continue Reading This Article
Enjoy this article as well as all of our content, including E-Guides, news, tips and more.
By submitting your personal information, you agree that TechTarget and its partners may contact you regarding relevant content, products and special offers.
You also agree that your personal information may be transferred and processed in the United States, and that you have read and agree to the Terms of Use and the Privacy Policy.
plan. But while 92% of readers store data backups offsite, not all of them are overly rigorous in how the data gets there.
Seventy-eight percent of readers ship backups physically rather than electronically (10%), while 7% create backups from offsite, replicated data sets. Backup tapes are shipped using a third-party service 66% of the time, while 30% of respondents transport backup tapes themselves. A little more than half of the respondents (56%) do the right thing and move backups offsite at least once a day, while the rest move data as infrequently as once a month. Eighty-one percent do backups to a media vaulting center or collocation facility, but 8% of respondents store backups at home or in their cars!
Storage readers are beginning to doubt the wisdom of shipping physical backup tapes. In three years, 12% of readers say they'll definitely still be shipping tapes, but 11% say they definitely will not be. "[The] goal is to replicate all data to a remote location, but still do some type of backup," writes one reader. What's fueling interest in offsite electronic data vaulting? One reader cites "the costs to maintain tapes offsite coupled with the poor service we receive from our offsite vendor."
The following question was asked of respondents who answered "Yes" to Question 1
The following question was asked of respondents who selected "Backup tapes are physically transported to an offsite location" for Question 2
Dig Deeper on Remote and offsite data storage
PRO+
Content
Find more PRO+ content and other member only offers, here.