Snapshot: Do you outsource your backups?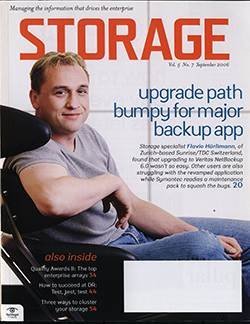 Download
An overwhelming majority of Storage readers agree that outsourced backup isn't the best solution for them. Eighty-one percent of survey respondents currently don't use a backup service provider, and 65% wouldn't consider using one in the future. The top two reasons for not using a service are readers' confidence in their own infrastructures (61%) and concerns about data security (48%).
Continue Reading This Article
Enjoy this article as well as all of our content, including E-Guides, news, tips and more.
By submitting your personal information, you agree to receive emails regarding relevant products and special offers from TechTarget and its partners. You also agree that your personal information may be transferred and processed in the United States, and that you have read and agree to the Terms of Use and the Privacy Policy.

Readers who've experienced backup outsourcing weren't pleased with the results. "We had outsourced backup in my previous company and the experience was not good," writes one reader. "Turnaround time for change requests was huge."
Another found outsourcing unreliable: "After working for a company that did outsource, we found there were many hidden costs, and our backup processes did not receive the proper attention when it came to meeting scheduled runs and recovery needs."
--Trina MacDonald
Dig deeper on Remote and offsite data storage