Snapshot: Deploying IP storage technology
Will you deploy IP storage technology?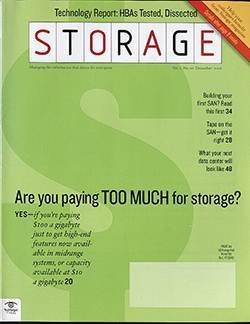 Download
Continue Reading This Article
Enjoy this article as well as all of our content, including E-Guides, news, tips and more.
By submitting your personal information, you agree that TechTarget and its partners may contact you regarding relevant content, products and special offers.
You also agree that your personal information may be transferred and processed in the United States, and that you have read and agree to the Terms of Use and the Privacy Policy.
1. Will you deploy IP storage technology?
2. If so, when?
3. If not, why?

IP storage seems to have a good bit of credibility amongst Storage magazine readers. Most readers (57%) say they will deploy some form of IP storage technology-the majority of which (58%) have either already done so-or will within the next year. As one reader puts it, "iSCSI seems to be a nice compromise between SAN block-level file access and simplicity of management of a NAS." Furthermore, "SANs are too proprietary and too costly for what you get, considering that Gigabit Ethernet is so fast and so cheap." But IP storage isn't without its detractors. The 43% of you that have no plans to put IP storage in their environments have a long list of reasons to avoid it-existing storage infrastructures, for one, but also an aversion to new technologies, insufficient knowledge, funds and security concerns.
Dig Deeper on Ethernet storage
PRO+
Content
Find more PRO+ content and other member only offers, here.