Evaluate
Weigh the pros and cons of technologies, products and projects you are considering.
SNIA Relaunches Supported Solutions Forum
Eighteen months ago, the Storage Networking Industry Association announced the formation of the Supported Solutions Forum.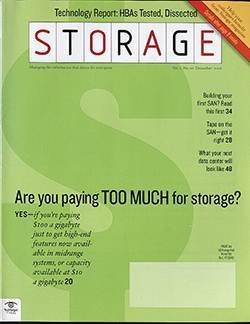 Download
Eighteen months ago, the Storage Networking Industry Association announced the formation of the Supported Solutions...
Continue Reading This Article
Enjoy this article as well as all of our content, including E-Guides, news, tips and more.
By submitting your personal information, you agree that TechTarget and its partners may contact you regarding relevant content, products and special offers.
You also agree that your personal information may be transferred and processed in the United States, and that you have read and agree to the Terms of Use and the Privacy Policy.
Forum, then a consortium of six vendors that would work together to put together--and support--interoperable, tested configurations of SAN products.
@exb
Recent Funding to Storage Companies


Venture capitalists whipped out their checkbooks for a plethora of storage-related companies this fall. Here is the rundown on who got what.
@exe

Since then, unfortunately, "we've made progress, but not as much progress as we'd like," says Phil Mills, Supported Solutions Forum (SSF) Chair, and senior technical staff at IBM, publishing a grand total of five supported solutions.

Why the slow progress? "I think one of the impediments of the SSF was that we created solutions that we thought the industry needed, and in actual fact, they didn't exactly match what the industry needed," says Mills.

Case in point: SSF's first solution qualified two SAN solutions--one for McData, and one for Brocade switches--where arrays from Compaq, EMC, HDS, and IBM are in separate data zones within a single SAN fabric. "End users told us, 'Yes, we want to run heterogeneous storage arrays in the same fabric, but we want them to be in the same data zone,'" says Mills.

Moving forward, "we think that we'll make much more progress because we're going to be getting customer input," Mills says. Going forward, the SSF is newly committed to increasing customer involvement, in the form of frequent conferences, Web-based forums and white papers. The SSF is also urging customers to communicate their ideas from the SSF Web site.

Also, in future supported solutions, the SSF will include information not only about what works, says Mills, but what doesn't work. "Ordinarily, you don't talk about that in a white paper," he says, but in an indication of how things have changed, insists that the SSF members--all 34 of them--"are all OK with that."
Dig Deeper on SAN technology and arrays
PRO+
Content
Find more PRO+ content and other member only offers, here.