SMBs move beyond the VTL interface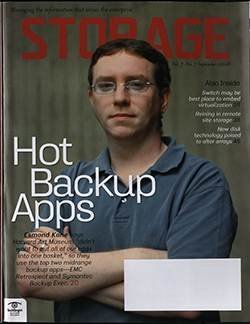 Download
Continue Reading This Article
Enjoy this article as well as all of our content, including E-Guides, news, tips and more.
By submitting your personal information, you agree that TechTarget and its partners may contact you regarding relevant content, products and special offers.
You also agree that your personal information may be transferred and processed in the United States, and that you have read and agree to the Terms of Use and the Privacy Policy.
there was a time when the vast majority of disk-based backup products relied on the virtual tape library (VTL) interface because most backup software tools could only "see" tape. VTL interfaces let those software tools think they were writing to tape drives, when they were actually writing data to disk arrays.

Over the last two years, backup software tools have been updated to "see" disk as disk, and the major players--CommVault's Simpana EMC's NetWorker, IBM's Tivoli Storage Manager and Symantec's Veritas NetBackup--don't necessarily require the VTL interface to write backups to disk anymore.

The first users to embrace disk backup systems without VTL are small- and medium-sized companies, which were also among the first to replace tape cartridges en masse with removable hard drives for offsite storage. Tape management put more of a burden on firms with small IT staffs, according to industry experts.

"In our market, when we put disk systems in, the user typically doesn't have tape on site," says Bill Andrews, president and CEO of clustered-NAS data deduplication systems vendor ExaGrid Systems. Andrews says his company is focused mostly on users with between 1TB and 40TB of data.

And recent Storage survey results line up. Our spring Purchasing Intentions survey shows differences by company size in response to the question, "Which disk-to-disk backup strategies are you currently using?" Forty-eight percent of small businesses responded "Disk configured as file system," as did 42% of mid-sized shops. This is in contrast to the 20% of small businesses and 27% of midsized businesses that say they use VTLs. And while 46% of large businesses say they use "disk configured as a file system," VTL was the more popular choice, picked by 49% of big business respondents. (Those numbers add up to more than 100% which suggests that large shops are more likely to use a mix of devices for disk-based backup.)

Some midsized shops have decided to wait out the VTL-only stage of disk-based backup altogether. Michael Passe, storage architect at Beth Israel Deaconess Medical Center in Boston, had become disenchanted with tape management long before VTLs existed and set out to deploy a disk-based backup system with a NAS interface from the beginning. Although Beth Israel Deaconess is an EMC shop, Passe skipped EMC's Disk Library VTL products and deployed a Data Domain DD580 for 10TB to 20TB of nightly backups.

"One FalconStor [VTL] customer we talked to even had a message from their backup software that it couldn't mount a virtual tape in a virtual drive," he says. "Perfect emulation!"

However, that's not to say the VTL interface will disappear, particularly at the high end, according to W. Curtis Preston, VP of data protection services at Framingham, MA-based GlassHouse Technologies Inc.

"Small companies prefer the NAS interface for simplicity," he says. "But large companies need the performance of Fibre Channel, while NAS communicates over Ethernet, and sharing and provisioning NAS systems becomes much more complex in a bigger environment."

--Beth Pariseau
Dig Deeper on Storage virtualization
PRO+
Content
Find more PRO+ content and other member only offers, here.