SAS bumps up speed to 6Gigs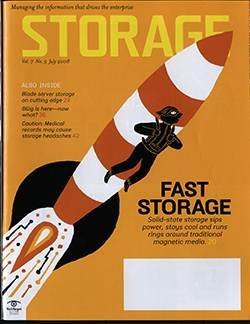 Download
Continue Reading This Article
Enjoy this article as well as all of our content, including E-Guides, news, tips and more.
By submitting your personal information, you agree that TechTarget and its partners may contact you regarding relevant content, products and special offers.
You also agree that your personal information may be transferred and processed in the United States, and that you have read and agree to the Terms of Use and the Privacy Policy.
Serial-Attached SCSI (SAS) drives are getting their first technology refresh since 2005. The major change is a doubling in bandwidth from 3Gb/sec to 6Gb/sec, but other enhancements are in the works to make SAS a better fit for storage networks and to position it as the eventual successor to Fibre Channel (FC) drives in SANs.

Dell, LSI and Seagate demonstrated 6Gb interoperability at a May 6 SCSI Trade Association (STA) event using Dell servers, LSI SAS RAID-on-chip and expander components, and Seagate 6Gb SAS and SATA hard drives. The STA has also scheduled a 6Gb SAS plugfest for December 6 at the University of New Hampshire, and expects 6Gb SAS drives to ship to users in late 2009.

Besides going to 6Gb, the next-generation SAS drives will include:
Standard zoning, which eliminates compatibility issues caused by vendors implementing unique zoning


Decision Feedback Equalization (DFE) to ensure more reliable links


Longer cabling; the STA's goal is to support 10 meters, up from the current maximum of eight meters to 10 meters


Any-port to any-port connectivity


Spread Spectrum Clocking to reduce EMI emissions


Self-configuring expanders
"This will make SAS enterprise ready for external storage environments, and will allow SAS to take the place of FC drives," said Howard Shoobe, Dell's senior manager of storage product management.

SAS won't replace all FC, at least not for a while. But drive makers Fujitsu Computer Products of America, Hitachi Global Storage Technologies (HGST) and Seagate--which manufacture both SAS and FC drives--say they see little demand for 8Gb/sec FC drives, although FC switches and host bus adapters are being upgraded to provide 8Gb connectivity from servers to storage. That means SAS will provide faster connectivity at a lower cost than FC drives, which will almost certainly cut into FC's market share by the end of 2009. The STA roadmap calls for 12Gb/sec SAS in late 2012.

"Fibre Channel will probably never go away," admits Dell's Shoobe. "How long has Unix been dying? What about the death of the mainframe? There's a place for Fibre Channel in high-end arrays. But you'll see this increasingly encroach on Fibre Channel."

Dean Amini, director, enterprise market and strategy at HGST, agrees. "Clearly, our customers [storage system and server vendors] are pointing to 6Gig SAS as the replacement for 4Gig FC on the drive side," he says. "On the drive interface side, we don't see a move to 8Gig, so 6Gig SAS plays a very important role."

SAS drives have made a big splash in the server market since replacing parallel SCSI drives in 2005. According to John Rydning, research director for hard disk drives at Framingham, MA-based IDC, between 50% and 60% of the enterprise drives shipped in 2007 were SAS. He says SAS received a big boost from its 2.5-inch small form-factor drives, which made it popular for servers.

Rydning and Amini agree that it will probably take at least two years before 2.5-inch drives become prevalent in storage systems. SAS drives are still available in 3.5-inch form factors, the same as FC.

A lot has been made of the ability to mix those SAS drives with high-capacity SATA drives in the same system, but Rydning says that hasn't happened much yet. "There's been good cooperation by those industry trade groups," he says. "In practice, we haven't seen as much mixing as you might have expected."

SAS drives will have to stand on their own even without SATA mixing in if they're to replace FC. That makes compatibility testing through the rest of this year crucial.

"It's more than a performance bump from 3Gigs to 6 gigabytes," says David So, LSI's strategic marketing manager for the Storage Components Group, of SAS 2.0. "That's why testing is important."


--Dave Raffo
Dig Deeper on Primary storage devices
PRO+
Content
Find more PRO+ content and other member only offers, here.