Removable disk vies with tape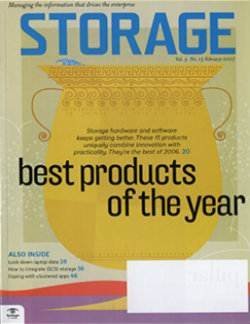 Download
The battle between disk and tape has heated up for small- to medium-sized businesses (SMBs), with several vendors...
Continue Reading This Article
Enjoy this article as well as all of our content, including E-Guides, news, tips and more.

launching entry-level removable disk products designed to replace tape as offsite backup media.

Tandberg Data's RDX QuikStor has been available since October, while Dell launched its PowerVault RD1000 in November. Last month, Imation announced its RDX series of removable hard-disk systems along with a separate removable disk solution--Imation's Odyssey solution, a bundle that includes a docking station, hard-disk cartridge and a full version of EMC's Retrospect software at a starting price of $249. Imation introduced its Ulysses drive--a removable disk drive encased in an LTO Ultrium form factor that can slip unobtrusively into a tape library--in the first quarter of last year.

The Tandberg Data and Dell and Imation RDX products are based on ProStor Systems' RDX removable disk technology, and offer native disk capacities of 40GB, 80GB and 120GB; Imation also offers a 160GB RDX native capacity disk. The drive unit is available in external and 3.5- and 5.25-inch internal models. The disks are protected within a hardened cartridge casing; ProStor Systems has designed the RDX cartridges to withstand a one meter drop onto concrete and they have a 10-year shelf life.

Vendors see Dell's adoption of the RDX technology as a significant step toward putting removable disk storage squarely in users' sights. "OEM acceptance is usually a very good indicator of volume and success in the market," says Steve Dwyer, manager of strategic growth programs, Imation. Randy Kerns, CTO at ProStor Systems, agrees: Boosted by Dell's involvement, "removable disk storage will become a pervasive technology," he says.

Some users have already converted to removable disk from tape. Just over a year ago, Brad Hutchinson, a network administrator at Overland Park, KS-based Bushnell Outdoor Products, replaced the company's tape system with a six-bay version of Idealstor's self-named ejectable disk appliance. One Idealstor system offers up to eight drive bays, supports up to 750GB per drive and works with many established backup software applications in addition to its own IBAC software, which is what Hutchinson uses.

"I don't know why people are still using tape," says Hutchinson, who likes the fast recovery times he gets with his Idealstor appliance. "Restore takes, like, [zero] seconds," he notes. "It's quick."

Despite the "ruggedization" of the cartridge enclosure, there are concerns that the drives will still be vulnerable to damage--though vendors have gone a long way to remedy that issue for short drops, says Henry Baltazar, storage analyst at The 451 Group, San Francisco. But Baltazar cautions that disk drives "weren't designed to sit on a shelf idle" and tend to work better in constant motion.

@exb

@exe

But removable disk rivals tape on price, holding increasing amounts of data while offering the same portability. That should appeal to SMBs, says Dianne McAdam, director of enterprise information assurance at The Clipper Group, Wellesley, MA. "I think there's this emotional need that says removable disk drives are just going to make me feel a lot better," says McAdam.

--Trina MacDonald
Dig Deeper on Primary storage devices
PRO+
Content
Find more PRO+ content and other member only offers, here.