Recovery slows for storage shops
Storage budgets have been recovering, but progress might be slowing. Storage managers are looking for tools to get more out of the gear they have or plan to buy.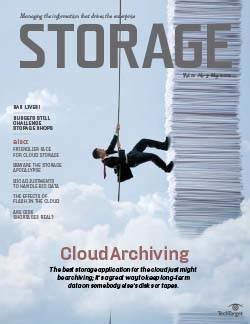 Download
About the Storage Purchasing Intentions survey
The Storage magazine/ SearchStorage.com Purchasing Intentions survey is fielded twice a year; this is the 10th year the survey has been conducted. Storage magazine subscribers and SearchStorage.com members are invited to participate in the survey, which gathers information related to storage managers' purchasing plans for a variety of storage product categories. This edition had 687 qualified respondents across a broad spectrum of industries,...
Continue Reading This Article
Enjoy this article as well as all of our content, including E-Guides, news, tips and more.
By submitting you agree to receive email communications from TechTarget and its partners. Privacy Policy Terms of Use.

with the average company size measured as having revenue of $1.3 billion.
Storage budgets have been recovering, but progress might be slowing. Storage managers are looking for tools to get more out of the gear they have or plan to buy.
Storage managers have been grappling with spiraling disk capacities and new demands on their data storage infrastructures, while their budgets have dwindled or languished in the doldrums. As we all strive to regain some measure of predictability, IT planning is still often a tumultuous affair, and storage shops aren't immune to the ups and downs of an economy slogging its way to recovery.
The past few Storage magazine/SearchStorage.com Purchasing Intentions surveys have indicated that recovery is underway, but our most recent survey suggests we may still experience a bump or two on the road to recovery. The good news is that storage managers are as resourceful as ever and more than willing to entertain new technologies to meet demands even if their purses are pinched a bit.
@pb
Budgets growing slower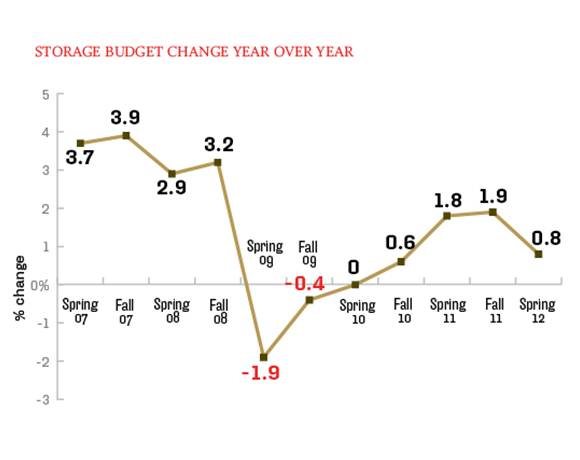 Budget change figures
As the economy swooned in 2009, on a year-over-year basis, storage budgets fell into negative numbers for the first time. It took a year for that to turn around with steady but modest upticks to get back to near-respectable numbers. The latest survey, however, is less encouraging. Last year, storage budgets averaged 1.9% higher than the previous year's; this time the difference is only 0.8%. Still a positive number, but it appears storage managers won't have a lot more to spend in 2012.
In dollar terms, the average 2012 storage budget is approximately $2.7 million, off about 10% from 2011. Big and midsize companies will do more belt tightening than smaller firms: The average enterprise budget is $7.5 million, down almost 10% from last spring, and midsize budgets slipped 8% to $2.4 million. With an average storage budget of $1.4 million, the picture's much brighter for small companies that have struggled as larger organizations recovered.
Key statistic
1.7 petabytes: Average amount of data that companies are managing on all forms of storage media
By the numbers
Average company revenue is $1.3 billion, slightly less than last year's $1.4 billion.
Broken down by company size, year-over-year storage budgets have made only small gains: 1.1% increase for big companies, 2.3% for midsize and 0.6% for small companies.
Budget money will be allocated as it has been for several years, with disk hardware getting the biggest chunk (35%) followed by staff (14%), software (13%) and maintenance fees (12%).
Disk storage still top priority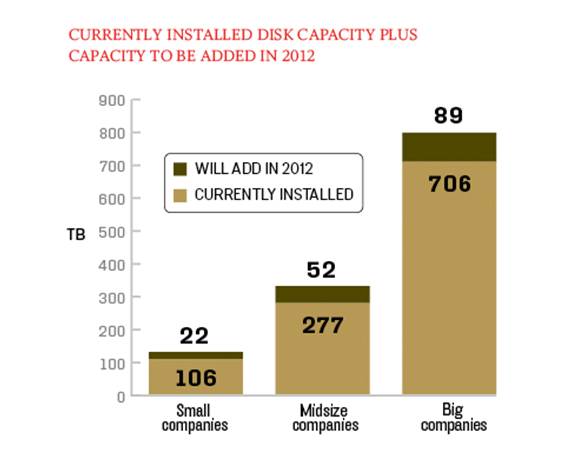 Disk capacity: Installed and to be installed
Disk systems are still the heart and soul of any storage operation. Our survey companies reported an overall average of 247 TB of data stored on their disks, with large companies leading with 706 TB; midsize firms reported 277 TB and small companies had 106 TB. Those are pretty staggering numbers, which will only grow in 2012 as companies add an average of 41 TB of disk capacity.
For the first time since we started asking back in 2008, Fibre Channel (FC) wasn't the most popular type of storage system installed. With 58% reporting that they're running network-attached storage (NAS) gear, those file storage systems lead the way, with FC (43%) and iSCSI (42%) trailing. Looking at plans for 2012 disk-related expenditures, the biggest chunk (34%) will once again go for additional hard drives for existing storage systems -- a trend we saw starting back in 2007. New NAS systems are the next-highest priority at 17%, with the rest fairly equally split among FC and iSCSI storage-area networks (SANs), hybrid systems and direct-attached storage (DAS).
Key statistic
24% say price is the main factor in choosing a primary disk system vendor.
By the numbers
Small companies will add 22 TB of capacity, midsize firms will need another 52 TB (second-highest hike we've ever seen) and big companies will add 89 TB.
For respondents planning to buy storage arrays, 43% will go with midrange systems while 32% will opt for low-end systems.
Twenty-seven percent will buy DAS for new file storage in 2012; the rest will split their spends among NAS filers (19%), NAS gateways (15%), virtualization (11%), clustered systems (9%) and the ubiquitous "other" (19%).
@pb
Flash is solid storage alternative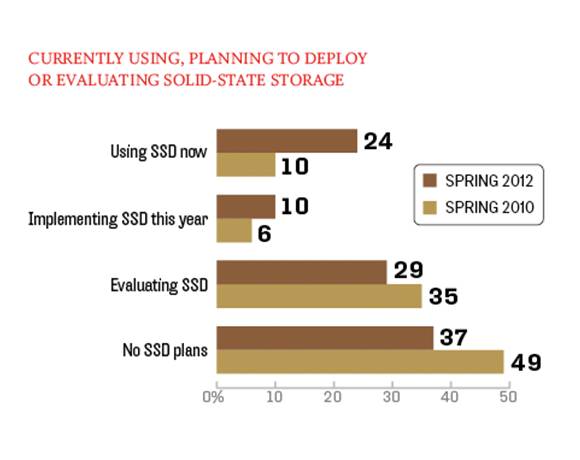 Solid-state storage deployment
Given how slowly storage tends to evolve, the adoption of solid-state storage is something of a phenomenon, going from luxury trinket to a key component of scores of systems in just a few short years. Right now, 24% of respondents are solid-state drive (SSD) users, with another 10% planning to add it this year. Toss in 29% who say they're evaluating the technology and that leaves approximately 37% on the SSD sidelines.
The most popular spot for solid-state drives is still in storage arrays (67%), but 40% have deployed it in servers, 34% in end-user systems and 20% in caching appliances. The average capacity of installed solid-state storage is 9 TB -- maybe not terribly impressive by hard disk standards, but a hefty amount of flash that has grown from an average of 6.8 TB two years ago. On average, organizations planning to add solid-state storage in 2012 will up their installed capacities by 7.1 TB.
Key statistic
65% of non-users say solid-state storage is still too expensive.
By the numbers
Two years ago, only 10% of respondents said their companies were using solid-state storage vs. 24% today.
The average of 9 TB of installed SSD capacity represents an increase of 18% since last fall and 32% vs. one year ago.
Thirty-one percent say they have 10 TB or more of SSD installed.
Cloud storage slowly gaining fans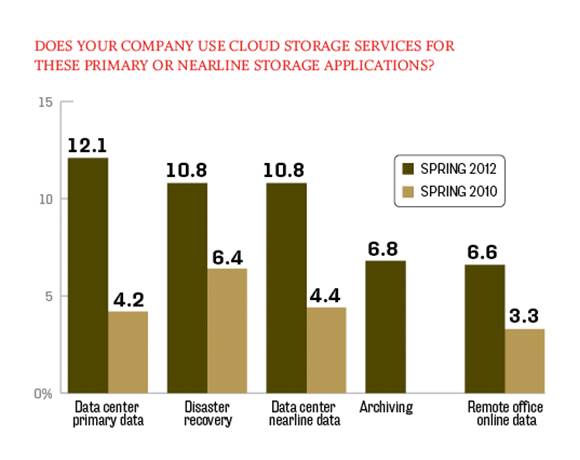 Cloud storage for primary apps
Not too long ago, it took a leap of faith for a company to use a cloud storage service, especially for housing primary or nearline data. But service providers have made great strides in the last couple of years, and they've begun to win over some converts. Today, about 30% of companies use some form of non-backup cloud storage (more on cloud backup later); the current survey indicates that the top three applications are data center primary data (12.1%), disaster recovery (10.8%) and data center nearline data (10.8%). To put those numbers in perspective, two years ago only 14% were using non-backup cloud storage and the top app was DR at 6%.
Companies using those cloud storage services have an average of 19 TB of data stored in the cloud. That's nearly 20% higher than the number reported last fall when we asked the question for the first time. Current users also seem pretty pleased with the services as 83% plan to add services in 2012, with DR (38%) and storage for primary data (37%) topping their shopping lists.
Key statistic
26% have already deployed -- or plan to deploy -- private storage cloud products.
By the numbers
Some cloud use is substantial: 44% say they have more than 10 TB in the cloud.
Only 6% are currently using hybrid storage devices, which integrate on-premises storage with a cloud storage service.
Nine percent of reporting companies use a cloud file sharing/synching service; 7% plan to add one this year.
@pb
Managing storage for virtual servers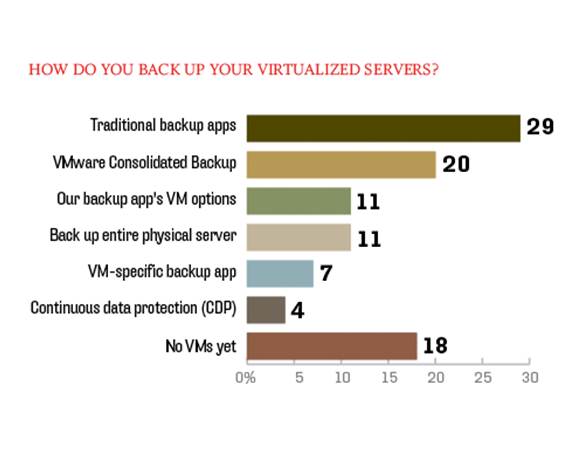 Virtualized server backup
Server virtualization might've made life easier for systems jockeys, but storage teams haven't been so lucky. As server virtualization continues to rise, storage managers are learning how to adapt to and cope with the new environment. FC (34%) is still the storage of choice for virtual machines (VMs), but the number is much lower than those of the last four years, when it hovered around 50%. iSCSI (21%) and NAS (14%) have picked up some of the slack as companies found those protocols provided adequate performance for most VMs.
Backup has been a particular headache for storage managers coping with virtual machines. Twenty-nine percent still use traditional backup methods, with a backup client installed in each VM. That number has dropped from 43% a couple of years ago as backup administrators employ alternatives such as using specialized VM options in their backup software (11%), backing up the physical server (11%) and VM-specific products (7%). Twenty percent are holding out and still using VMware Consolidated Backup (VCB) despite its being effectively shelved by VMware.
Key statistic
63% say their companies are using more storage with VMs than they did before.
By the numbers
Eighteen percent say that with VMs they find they're backing up too much data.
For 14%, VM backup is still too complicated.
Eleven percent say they've had to deploy more disk to accommodate their VMs.
More than a third (36%) say "no problem" when it comes to VM backup.
Shops trying new backup approaches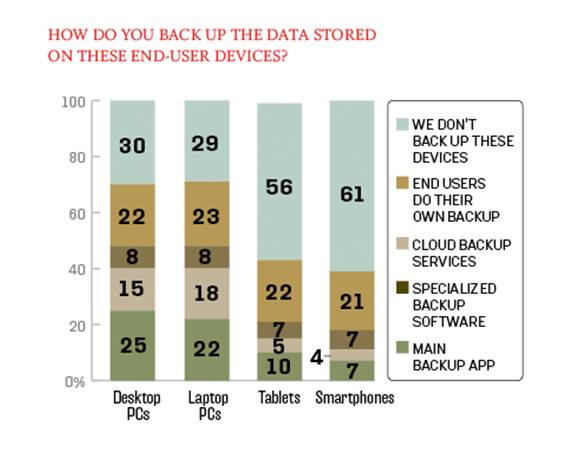 End-user device backup
For most shops, backup is still Job No. 1 and Headache No. 1 for a lot of them. Apparently, cutting tape is one method companies are using to streamline backup operations. Thirty-four percent say they'll reduce their use of tape in 2012, about the same as we've seen the last two years. But only 15% say they'll increase tape usage, which is the lowest number we've ever seen. Still, tape hasn't left the arena just yet, as 64% say they spin off some or all backup data to tape.
On the flip side, a healthy 44% of those surveyed will increase their spending for disk-to-disk (D2D) products, with another 40% planning to spend at 2011 levels. Currently, using disk as a file system target for backups is the most popular D2D method (44%), and 27% are using data deduplication in their backup schemes. Cloud backup is also starting to play a bigger role, with 31% backing up at least some data to the cloud. Those still loathe to use cloud backup cite reluctance to send data into a public cloud (30%) and an effective current backup setup as the top reasons for eschewing cloud backup.
Key statistic
BYOD Alert! 21% back up tablets, 18% back up smartphones
By the numbers
CDP may be on the rise, with 32% saying they'll increase CDP spending in 2012.
Forty-six percent -- the highest we've ever seen -- plan to increase backup dedupe spending.
With an average of 90 slots, tape libraries are getting smaller, but 35% plan to purchase at least one library in 2012.
Cloud backup users have an average of 12 TB of backup data in the cloud; 93% plan to increase or maintain spending levels this year.
@pb
Growing interest in efficient storage tools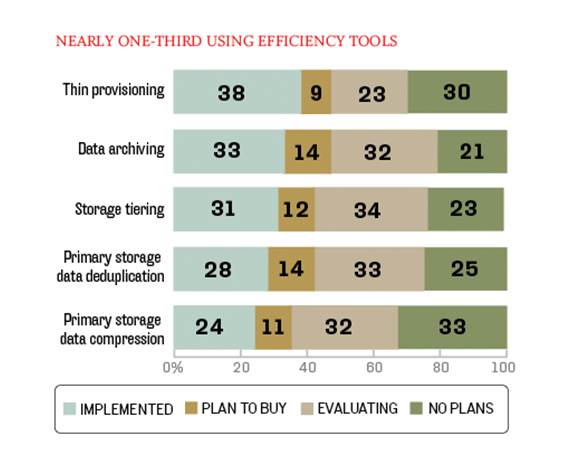 Use of efficiency tools
Tough times call for new ways to deal with old problems, and using storage more efficiently has become de rigueur for most IT organizations. Used by 38% of our respondents, thin provisioning is one of the easiest efficiency technologies to implement; another 9% plan to add it this year and 23% will evaluate. Data reduction for primary systems is also getting a lot of attention since its success in the backup world; 24% say the're using compression to cut storage down to size, while 28% say they're using one of a handful of primary storage dedupe products
Storage virtualization is another effective method for ensuring more efficient use of installed capacity. Virtualizing storage can still be a major undertaking, but 33% of companies have virtualized at least some of their storage -- about five points higher than three years ago. Block and file storage are getting equal attention: Seventy percent of those surveyed say some block has been virtualized and 71% say the same for file storage. The numbers drop off significantly for companies that have really taken the plunge: Twenty percent have virtualized all their block and 18% all file storage.
Key statistic
40% say they will either buy or evaluate a storage virtualization product.
By the numbers
Storage tiering, used by 31% of respondents, puts data on the most suitable storage; 12% plan to add it this year.
The most popular way to virtualize storage is via the storage array (41%), followed by using a virtualization appliance (38%).
Twenty-seven percent plan to evaluate storage virtualization this year.
Storage tech agenda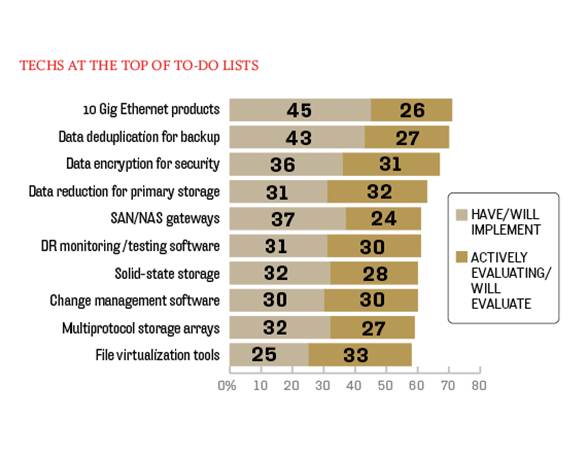 Top 10 techs for 2012
Storage managers are always on the lookout for technologies or products that may help them manage their companies' information resources better. For 2012, 71% of them will be looking to implement or evaluate 10 Gbps Ethernet gear to pep up their storage networks. Backup dedupe -- at or near the top of the list for years now -- has been or will be implemented by 43%, while 27% plan to give it the once over. Data reduction for primary storage is No. 4 on the list, but it's lost some interest vs. last year, perhaps a reflection that storage vendors just haven't done a heck of a lot in this area yet.
Some techs continue to languish at the bottom of the list -- sort of a "not-to-do" list that includes implementing chargeback systems, data classification, e-discovery tools and the still-new LTFS tape indexing technology.
BIO: Rich Castagna is editorial director of TechTarget's Storage Media Group.
Dig deeper on Storage market research reports