Quantum Streamlines DLTtape Brand, Roadmap
If you're confused by the variety of DLTtape drives on the market, take heart.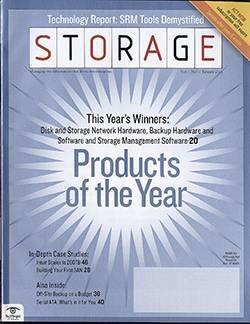 Download
If you're confused by the variety of DLTtape drives on the market, take heart. Quantum, following the completion...
Continue Reading This Article
Enjoy this article as well as all of our content, including E-Guides, news, tips and more.
By submitting your personal information, you agree that TechTarget and its partners may contact you regarding relevant content, products and special offers.
You also agree that your personal information may be transferred and processed in the United States, and that you have read and agree to the Terms of Use and the Privacy Policy.
of its Benchmark Storage Innovations acquisition, has announced streamlined branding and roadmaps for its various DLTtape drive properties.
In a nutshell, Quantum will now sell two basic DLTtape drive families: the high-end Super line led by the SDLT 320, but also including the SDLT 220, the DLT 8000, and the soon-to-be-discontinued DLT 7000; and the Value line, consisting of the DLT VS160 (currently shipping to OEMs) and the DLT VS80, formerly sold under the Benchmark ValuSmart brand. The Value line will also include DLT1 and DLT 4000 drives, rapidly nearing their end-of-life.
Quantum's next generation SDLT drive - the SDLT 600 - ships this summer. With 300GB native capacity, it will feature a transfer rate of between 30MB/s to 35MB/s.
All Super drives will be able to read Value drives from the same generation. Some Super drives may be able to read Value drives further back, says Steve Berens, Quantum's senior director of product marketing and strategy, although not at the expense of getting the drive to market.
Dig Deeper on Storage vendors
PRO+
Content
Find more PRO+ content and other member only offers, here.