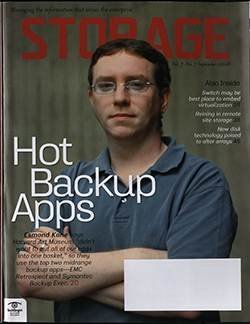 Download
Continue Reading This Article
Enjoy this article as well as all of our content, including E-Guides, news, tips and more.
By submitting your personal information, you agree that TechTarget and its partners may contact you regarding relevant content, products and special offers.
You also agree that your personal information may be transferred and processed in the United States, and that you have read and agree to the Terms of Use and the Privacy Policy.
NAS is emerging in some unlikely places outside of the traditional realm dominated by stalwarts like EMC and NetApp. Clustered file systems and cloud storage are pushing developments in NAS configurations as newer players in the market wade into NAS waters.

The manageability of traditional NAS may be driving the changes. "People love their first NAS appliance, but they curse their hundredth," says Terri McClure, an analyst at Enterprise Storage Group, Milford, MA. "That's one of the challenges with a monolithic, scale-up architecture."

"Customers are looking for something that's simpler to manage and administer than traditional file-system storage," says Derek Gascon, VP of marketing at Caringo. Customers using Caringo's CAStor for clustered file serving instead of the usual archiving is a recent development, but Gascon says Caringo's original intent was to deal with all types of unstructured content, both active and archive.

Online media provider CMWare uses CAStor software to provide cloud storage for mobile phone users with its skyTuneZ service, and chose the product because "it's fairly close to self maintaining," says Dale Skran, CMWare's COO. "It uses off-the-shelf storage servers, and doesn't require a lot of effort or technical skill to maintain."

It's still mostly small- and medium-sized and online businesses that are embracing these NAS offerings. Overland Storage targets this market, says Ravi Pendekanti, the firm's VP of marketing, who says the company recently acquired Adaptec's Snap Server NAS business to compete in the market.

"NAS is going to keep growing thanks to all the unstructured data that everyone on the planet is creating," says Pendekanti. "People want to store data, but they don't really want to know what's happening behind the scenes."

An influx of unstructured data into storage systems is one of the drivers causing NAS to evolve. "Things like rich content, it's more bandwidth-intensive," says McClure. "To scale out, it needs more processing power. Scale up is as important as scale out."

So far, traditional NAS vendors haven't made any significant moves toward clustered file serving or cloud storage. "Some of the big guys have validated the market, but none of them are shipping it," says McClure. EMC's Maui is on the radar, but doesn't have a firm release date. NetApp is shipping its clustered Data Ontap GX product, but has seen limited success as it hasn't integrated Data Ontap yet. Hewlett-Packard (HP) plans to ship the HP StorageWorks 9100 Extreme Data Storage System (ExDS9100) this fall.

"The answer isn't either/or, it's both," says Jonathan Buckley, chief marketing officer at Nirvanix. "Marry the two." Buckley says high-end storage is "absolutely necessary for transactional, for superfast stuff. But 80% to 90% of the data being held in a corporation today certainly doesn't fit into that category and we're applying the same tool to all of it." He adds that Nirvanix's cloud-based NAS offering (in beta testing at press time) is aimed at midmarket companies and at the departmental level of larger firms.

"I think there's going to be a tradeoff," says Skran. "There will always be an argument for a large provider to set up their own infrastructure. But for a smaller provider, with dynamic needs, the case for using virtual servers in the cloud is very strong."

--Christine Cignoli
Dig Deeper on NAS devices
PRO+
Content
Find more PRO+ content and other member only offers, here.