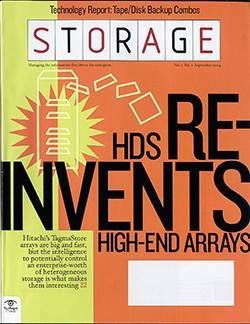 Download
Quantum and Sony have updated their tape wares--Quantum with a write once, read many (WORM) option for its Super...
Continue Reading This Article
Enjoy this article as well as all of our content, including E-Guides, news, tips and more.
By submitting your personal information, you agree that TechTarget and its partners may contact you regarding relevant content, products and special offers.
You also agree that your personal information may be transferred and processed in the United States, and that you have read and agree to the Terms of Use and the Privacy Policy.
DLTtape 600 drives and media; Sony with the latest revision of its AIT line, AIT-4.
Quantum's WORM tape, dubbed DLTIce, is implemented in firmware, so it doesn't require special drives or media. That's in contrast to other WORM tape options from IBM, Sony and StorageTek. SDLT 600 drives and cartridges retail for about $4,800 and $110, respectively.
Meanwhile, Sony's 3.5-inch form factor AIT-4 can store 200GB natively (520GB compressed) with a sustained native transfer rate of 24MB/sec, up from 100GB and 12MB/sec. The drive is backward read/write compatible with AIT-3 media, and read-compatible for AIT-2 and AIT-1. WORM is due out later in the year.
In other tape news, the first LTO-3 drives are coming. Last month, Certance took its first stab at an LTO-3 drive, the CL 800, which provides 400GB native capacity and throughput of 68MB/sec. The company also unveiled a $2,000 half-height LTO-2 drive, the CL 400, positioned as an alternative to AIT-1, DLT and VXA drive technologies.
Dig Deeper on Storage Resources
PRO+
Content
Find more PRO+ content and other member only offers, here.