New DLT drive tops a terabyte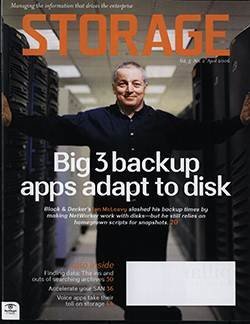 Download
QUANTUM'S LATEST SUPER DLT drive is a monster. With 800GB of native capacity (1.6TB compressed), the DLT-S4 easily...
Continue Reading This Article
Enjoy this article as well as all of our content, including E-Guides, news, tips and more.
By submitting your personal information, you agree that TechTarget and its partners may contact you regarding relevant content, products and special offers.
You also agree that your personal information may be transferred and processed in the United States, and that you have read and agree to the Terms of Use and the Privacy Policy.
beats its competition. Sony's SAIT and Sun's StorageTek T10000 drives both offer 500GB native, while the latest and greatest LTO-3 drive tops out at 400GB.
"Tape is becoming more of an archival medium," says Mark O'Malley, Quantum's manager, strategic marketing, storage devices, putting a premium on capacity over performance. Case in point: While the DLT-S4 has 2.6 times the capacity of the previous generation SDLT 600, it features only 1.6 times the performance: 60MB/sec vs. 36MB/sec native throughput.
DLT-S4 media costs, meanwhile, are very low. With a target street price of $100, DLT-S4 media will cost approximately $0.06/GB, which is less than half the price of LTO-3 ($0.14/GB).
The drive has a target street price of $4,495, and is available as a standalone model or in some Quantum libraries. It includes DLTSage monitoring, security features and optional WORM.
--Alex Barrett
Dig Deeper on Storage Resources
PRO+
Content
Find more PRO+ content and other member only offers, here.