More pieces added to the FCoE puzzle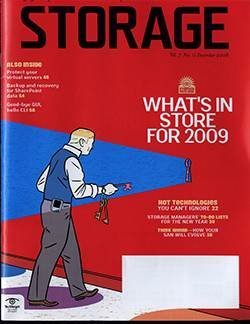 Download
Continue Reading This Article
Enjoy this article as well as all of our content, including E-Guides, news, tips and more.
Cisco and other storage vendors convened at Storage Networking World (SNW) in October for what QLogic marketing VP Frank Berry called "the third semi-annual FCoE press conference" aimed at convincing the storage world that Fibre Channel over Ethernet (FCoE) is just around the corner.

The big news at this press conference was NetApp pledging native support for FCoE in its storage arrays by the end of the year. That came a day after EMC added Cisco's Nexus 5000 series FCoE switch and Emulex and QLogic Converged Network Adapters (CNAs)--FCoE's equivalent to host bus adapters (HBAs)--to the EMC Select list of products it resells. VMware also sent a rep to the SNW FCoE news conference to say that the server virtualization vendor has certified the QLogic and Emulex CNAs with ESX 3.5 Update 2.

The most aggressive FCoE vendors (Cisco, Emulex and QLogic) are pushing a quick adoption of the new converged network protocol onto a market that's slow to adopt new technologies. Nearly every storage array vendor points to FCoE as the future, but they see it as the distant future. Even NetApp doesn't expect high adoption of FCoE before 2010.

The biggest hurdles to FCoE are that the separate standards required for FCoE and Data Center Ethernet won't be ratified before 2009, and the cost of 10Gb Ethernet (10GbE) gear for storage remains higher than that of FC devices. The $900 per-port price tag of Cisco's Nexus 5000 for 10GbE is steep in these tough financial times.

Cisco, Emulex, QLogic and others have banded together to form a de facto standard for issues such as priority flow control for lossless Ethernet and class-based scheduling to allocate bandwidth that vendors are now building into their FCoE products. The Fibre Channel Industry Association (FCIA) also conducted an FCoE plugfest in September to demonstrate interoperability.

As for pricing, that's a matter of time. The cost of cabling and chips will probably fall to the point where 10GbE costs as much as or less than 4Gb/sec FC next year, but power consumption issues with the chips may not be worked out until 2010.

Still, Cisco claims 100 customers are evaluating its FCoE switches and QLogic reported "hundreds of thousands of dollars" in FCoE revenue last quarter.

But not everybody in the industry is as gung-ho. Brocade, Cisco's main competitor for FC switches and a newcomer in the HBA game, has yet to release its FCoE switches or CNAs. Brocade pledges support for FCoE, but isn't sure the market is ready.

Marty Lans, Brocade's senior director of data center marketing, says Brocade will probably launch its FCoE products in the first quarter of 2009. He says Brocade isn't late because the market's peak is still well off. He points out that the vendors who sell storage and servers have held off because they expect FCoE to be a 2010 or later technology.

"Where's IBM, HP, Dell, Sun? Those are the guys who are going to have to drive this thing," says Lans. "I'm excited. I just can't get many customers excited about [FCoE], maybe because it still costs so much."

During an SNW presentation, NetApp user Steve Remsing, senior systems administrator at The Dow Chemical Company based in Midland, MI, said: "We're keeping an eye on the FCoE space, but it's not quite there yet."

VMware's presence at the SNW press conference reflects the importance the role of moving data with VMotion will have with FCoE networks. Shekar Ayyar, VMware VP of infrastructure alliances, says it's not too early to certify that CNAs that support FC and Ethernet can handle VMotion because customers are showing interest. "Our customers are starting to look at this in experimental mode and ask about it," says Ayyar. "There's enough interest that we have to support it."


--Dave Raffo
Dig Deeper on Unified storage
PRO+
Content
Find more PRO+ content and other member only offers, here.