More Storage 3.0 predictions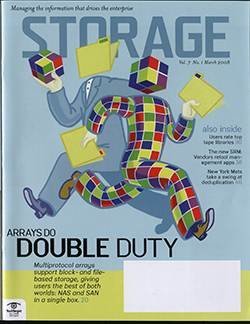 Download
Continue Reading This Article
Enjoy this article as well as all of our content, including E-Guides, news, tips and more.
By submitting your personal information, you agree that TechTarget and its partners may contact you regarding relevant content, products and special offers.
You also agree that your personal information may be transferred and processed in the United States, and that you have read and agree to the Terms of Use and the Privacy Policy.
These days, it's hard to avoid the phrase Storage 3.0. The next-wave storage trend relies on the premise that storage systems will be built on increasingly standardized hardware components, and that those storage systems will be policy driven, services oriented and object centric. At least that's how Framingham, MA-based industry research firm IDC sees it.

Of course, the Storage 3.0 wave is fueled in part by the Web 2.0 phenomenon. Indeed, a few weeks after IDC released its 2008 Top 10 storage predictions report, EMC introduced Fortress, its new SaaS infrastructure aimed at helping the company deliver online services--an announcement right in line with IDC's No. 1 prediction that online storage services will be viewed as a viable option.

One way to consider the Storage 3.0 revolution is to focus on tighter integration between all those new applications and your storage systems, says Benjamin Woo, VP of enterprise storage systems at IDC and a member of the team of analysts who co-authored the Top 10 list report. The second prediction on the annual IDC list is that role-based storage systems will demand tighter integration between the storage layer and content-generating applications.

"We're talking about building a lot more intelligence in the middleware, if you like," says Woo. "It's about a tremendous growth in unstructured data, and a greater granularity necessary in managing all that."

Prediction number three--that vendors will build object-based storage systems to classify data and add policies closer to the point of creation--gets to the heart of Storage 3.0. However, Woo encourages users to consider object-based systems in a new light, and says "data type-aware" storage systems are on the horizon.

Right now, "a file system is the closest thing we've got to object based," says Woo. To make "data type optimized storage" a reality, IDC says vendors this year are likely to focus on providing users with the ability to classify data close to the point of creation, apply an appropriate policy based on data type and ultimately place the data on the correct storage tier. Using those policy-driven, role-based storage strategies described in prediction number two, object-based systems could take on other tasks, including backup and recovery, archiving and deduplication, says Woo.

All of this would make data migration simpler, too. Rather than offline, block-based storage migrations, users could enjoy "online nondisruptive data migrations that could be part of a global storage policy," reads the IDC report. The firm isn't predicting the end of block-based storage, though. In its view, Storage 3.0 will commoditize block-based storage so that it's a component within new file-based solutions.

"We were very progressive in our predictions this year," says Woo, "suggesting that a lot of big things will get their beginnings in 2008."

--Ellen O'Brien
Dig Deeper on Primary storage devices
PRO+
Content
Find more PRO+ content and other member only offers, here.