Migrating Data No Picnic - and No Bargain
To describe data migration as complex is an understatement and tools to assist in data migration, meanwhile, are few and far between,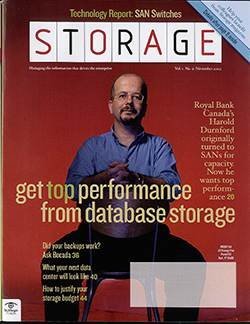 Download
To describe data migration as complex is an understatement. Rather, it's like "changing all four tires on your...
Continue Reading This Article
Enjoy this article as well as all of our content, including E-Guides, news, tips and more.
By submitting your email address, you agree to receive emails regarding relevant topic offers from TechTarget and its partners. You can withdraw your consent at any time. Contact TechTarget at 275 Grove Street, Newton, MA.
You also agree that your personal information may be transferred and processed in the United States, and that you have read and agree to the Terms of Use and the Privacy Policy.

car while barreling down the highway at 55 mph," quipped one administrator migrating data to a new SAN.
Tools to assist in data migration, meanwhile, are few and far between, says Patrick Courtin, CEO at SANgate, a start-up developing "intelligent data movers" that has also released a dedicated SAN data migration appliance called SANblaster. And the tools that do exist don't allow simultaneous migration between multiple sources and targets, he says.
IT managers often hire a consultancy to do data migration for them-but at what cost? A 5TB data migration can cost users between $75,000 and $100,000, SANgate execs have heard.
Targeted at large IT organizations and storage consultants, SANblaster isn't exactly cheap-it lists for $60,000. But in this world of "almost no tools," that's a bargain, says Courtin. Portable, self-contained, and complete with its own Fibre Channel and SCSI cabling, SANblaster can migrate data in both Unix and Windows environments, automatically discovers storage "sources," and can migrate up to 1TB of data per hour, SANgate claims.
Rainfinity is another vendor addressing end-users' data migration woes, specifically in NAS environments. Its recently announced RainStorage appliance promises to provide end-users with uninterrupted access to their data even during a migration.
What Jeff Kennedy, Unix system administrator at Applied Microcircuits Corp. in San Diego, CA, likes about RainStorage is its redirection capability. As a rule, moving data is not that hard-"what's hard is the post move." Invariably, end users do not properly log out of their sessions, resulting in stale NFS mounts. The result? "You spend three days tracking down all the stragglers." RainStorage eliminates that problem, and "the end user is totally unaware of the fact that you're moving data."
Dig Deeper on Data management tools
PRO+
Content
Find more PRO+ content and other member only offers, here.