Microsoft wants to resurrect DAS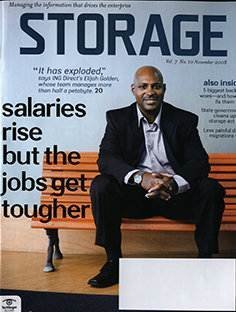 Download
Continue Reading This Article
Enjoy this article as well as all of our content, including E-Guides, news, tips and more.
Microsoft breathed some new life into an old-school storage technology when it recently recommended that users should consider using DAS with Exchange as a way to cut costs. Exchange 2007, the newest version of the popular email server, features easier replication, and the pairing of DAS and Exchange can be an effective way to handle inflated mailbox sizes.

"When we were doing the planning for Exchange 2007, one of the things that became clear when you talked to customers was that mailbox quotas at most enterprises hadn't kept up with user demand," says Microsoft's Jon Orton, senior technical product manager of the Exchange Server team. "Users end up spending a lot of time just managing their mailbox."

Having dedicated DAS servers for Exchange can be very appealing to storage managers. Matt Lavallee, director of technology at Shrewsbury, MA-based MLS Property Information Network Inc., which serves about 30,000 members, recently implemented DAS to run Exchange 2007 and SQL server. "It's the performance, really, when it comes right down to it," he says of choosing that setup. He considered putting it on iSCSI, but "to get the volume that Exchange and SQL want, you have to spend four times as much on the infrastructure just because of that app," he says. "That means you're also spending four times as much for every other node you want to have networked because of that one outlier."

But is DAS viable for both small and large businesses? According to Matt Baker, storage specialist at Dell, "DAS-oriented solutions really service two poles of possible deployment: small customers who haven't yet adopted SANs and don't necessarily want to for Exchange, and customers looking to deploy atypically large mailboxes." He also mentions large businesses with a dedicated Exchange environment using DAS, where staffers might manage both servers and storage.

Using Exchange with DAS can leave ownership of that storage with the Exchange team. "DAS is pretty simple to manage," says Microsoft's Orton. "We're finding that many Exchange administrators are capable of upkeep and, once it's deployed, it's pretty manageable."

Part of DAS' renewed appeal for Exchange is Exchange 2007's new storage-friendly feature: Cluster Continuous Replication (CCR). "Each node in a cluster has its own independent copy of the data, and the data replication is handled by Exchange," says Orton.

Dell's Baker points out that there are advantages with the new method, but that with recovery, "there are two sides to every story. There's a total recovery thing to keep in mind, which is that once you've failed over, you have to repair the other side," he says. "Repair isn't necessarily any faster when you have two separate full copies of data."

Lee Johns, Hewlett-Packard's director of marketing, entry storage and storage blades, thinks Exchange 2007 is an example of applications getting more storage-smart. "More and more applications are building in storage services like replication or clustering," he says. "That can lend itself to DAS implementations." He says DAS has become more acceptable as it's become more capable.

Baker says he doesn't see a mass exodus from SANs anytime soon, and that virtualization may actually drive people away from DAS. "It's sort of this creative tension in the marketplace," he says. "One trend is making applications intelligent enough to use DAS architecture and the other is really wanting to put storage in a central place to facilitate things like mobility."

Using DAS for selected apps like Exchange might be the best way for this abiding technology to live on. "iSCSI and Fibre are both viable, but then you're creating all kinds of infrastructure for something that has extreme throughput requirements," says MLS' Lavallee. "Why weigh down the entire infrastructure or pay all kinds of money for infrastructure for one specific application?"

--Christine Cignoli
Dig Deeper on Primary storage devices
PRO+
Content
Find more PRO+ content and other member only offers, here.