Lessons learned from a laptop crash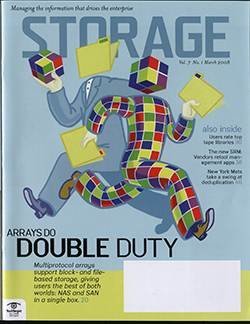 Download
Continue Reading This Article
Enjoy this article as well as all of our content, including E-Guides, news, tips and more.
It's cathartic for me to confess my stupidity publicly. I've written and edited articles for this magazine about the importance of data protection and the flakiness of disk drives for the past six-plus years, but I never backed up my laptop data. Like many other people I know, I thought a disk crash wouldn't happen to me. But after I suffered a recent catastrophic disk crash on my laptop, I started to seriously investigate laptop backup options. The solution had to fit my personality profile: lazy and forgetful.

I discovered that there are numerous products geared toward home-office lone wolves like me. Rebit's Rebit, Seagate Technology's FreeAgent Pro and Maxtor OneTouch 4, and Western Digital's WD Passport, to name just a few, come with external hard drives of various sizes coupled with some type of backup software. All of these products but one require some kind of setup and restore process. The only setup Rebit--the product I'm currently using--requires is to plug in a USB cable; no installation, configuration, scheduling or managing is needed. In other words, plug it in and forget it.

Rebit backs up everything on your C drive: the OS, apps data and digital content. It's tightly integrated with Windows and has a very intuitive Explorer-like drag-and-drop recovery interface; other products have proprietary user interfaces. Rebit uses continuous data protection technology to back up all changes and even provides bare-metal recovery to restore everything from a particular point in time (that, knock on wood, I'll never need to do). Rebit routinely purges old files from the disk, so there's always room for new data.

The next edition of Rebit, which should be out this month, adds lots of useful features, such as data migration to another PC, file deduplication and Vista support, and partitions so that two PCs can use the same Rebit backup disk. Prices start at $169 for an 80GB disk and climb to $269 for a 500GB model.

--Rich Friedman
Dig Deeper on Data storage strategy
PRO+
Content
Find more PRO+ content and other member only offers, here.