Legato sidles up to Microsoft
Curious about what Microsoft will include for storage management software in its upcoming .NET server?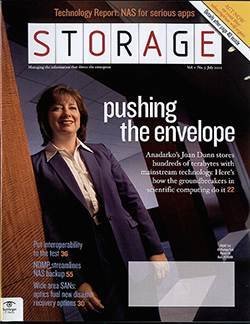 Download
Curious about what Microsoft will include for storage management software in its upcoming .NET server? Legato-derived...
Continue Reading This Article
Enjoy this article as well as all of our content, including E-Guides, news, tips and more.
By submitting your personal information, you agree that TechTarget and its partners may contact you regarding relevant content, products and special offers.
You also agree that your personal information may be transferred and processed in the United States, and that you have read and agree to the Terms of Use and the Privacy Policy.
snapshot capabilities, for one.
This spring, the two companies signed an agreement that will enable the companies to "engage in a deeper level of conversation ... and perhaps make changes to the API," says Jim Chappel, Legato senior vice president of business process and development.
Specifically, the Legato technology will be integrated into .NET's Volume Shadowcopy Service, or VSS, according to Rakesh Narasimhan, senior director for partnerships for Microsoft's enterprise storage division.
But one shouldn't read too much into this agreement, observers say. What Microsoft is doing, says an industry insider who prefers to remain nameless, is trying to lend VSS - which it already wrote - legitimacy by soliciting vendors to support it.
Nor is it likely that the relationship will give Legato a privileged look inside the .NET code, of which Microsoft is a notoriously tight guardian.
Meanwhile, Microsoft's tight reign over its operating system is putting the brakes on another storage software vendor: Veritas, which now has a storage software suite for Windows, sans its file system. According to Matt Fairbanks, product line manager for high-availability products, Veritas has already ported its file system to Windows, but "won't release it to market until we can get an agreement from Microsoft."
The likelihood that Microsoft will allow this is slim to non-existent. "That Veritas has written a file system for Windows is academic," sources say. "There's no way Microsoft will ever let VFS run on Windows and support it."
Dig Deeper on Data storage management
PRO+
Content
Find more PRO+ content and other member only offers, here.