InfiniBand still a longshot for storage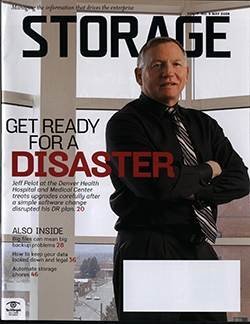 Download
Continue Reading This Article
Enjoy this article as well as all of our content, including E-Guides, news, tips and more.
Fibre Channel (FC) storage vendors see a need to play nice with Ethernet. That's why their vision of the next-generation data center includes a nascent FC over Ethernet (FCoE) standard as the key piece of what they consider a unified fabric.

Such unification leaves little, if any, room for InfiniBand. The low-latency, high-bandwidth protocol isn't used much for storage, but has replaced Ethernet in many high-performance computing (HPC) environments. Its proponents say InfiniBand is a better fit for FC convergence than Ethernet.

FC-centric storage networking vendors such as Brocade, Emulex and QLogic consider Ethernet compatibility the key to extending FC's life. So does Cisco Systems, which is primarily an Ethernet company, but competes with Brocade in the FC switching area.

But InfiniBand vendors are working up their new standard, FC over InfiniBand (FCoIB). They point out that InfiniBand already supports 20Gb/sec with 40Gb/sec expected by next year, while Ethernet is at 10Gb/sec. And Ethernet won't be ready to run high-performance storage apps until Enhanced Ethernet is adopted--probably a year off--to prevent dropped packets.

With FCoIB, InfiniBand adapters will encapsulate FC packets in hardware and move them over InfiniBand. Thad Omura, VP of product marketing at Mellanox Technologies, says InfiniBand adapters support the standard, but software development won't be complete until late this year or early 2009.

But FCoIB doesn't have backing like FCoE. Cisco and QLogic sell InfiniBand switches and adapters, but Mellanox and Sun are the main voices behind FCoIB. "There hasn't been a lot of noise about it," admits Omura.

Arun Taneja, founder and consulting analyst at Hopkinton, MA-based Taneja Group, predicts InfiniBand's low latency and high bandwidth will give it a seat at the table, but as a separate fabric. He says there's no reason to use it in a network with Ethernet.

"If I take a 40gig-per-second protocol and put that on 10gigE converged Ethernet, I should have my head examined," says Taneja. "If I need 40gigs per second, I'm going to stay with InfiniBand, and more than likely I'm looking for InfiniBand at the front end." Only LSI and DataDirect have that now.

InfiniBand vendors have gateways for FC to connect to InfiniBand networks, but no major FC SAN vendors have native InfiniBand systems. Systems from NetApp and Isilon Systems use InfiniBand on the back end with Ethernet front-end connections.

QLogic, which acquired InfiniBand vendors SilverStorm Technologies and PathScale in 2006, expects InfiniBand to remain mostly an HPC fabric. Sash Sankura, marketing VP for QLogic's network solutions group, thinks InfiniBand will play a large role in server I/O virtualization but not in storage.

"Fibre Channel is the SAN fabric today," says Sankura. "It could move to FCoE, but I don't see InfiniBand in that [SAN] space any time soon."


--Dave Raffo
Dig Deeper on SAN technology and arrays
PRO+
Content
Find more PRO+ content and other member only offers, here.