Hospital Washes Hands of Backup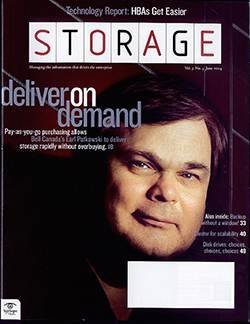 Download
When should you outsource your backup? When it's not working for your organization, that's when. In 2002, when...
Continue Reading This Article
Enjoy this article as well as all of our content, including E-Guides, news, tips and more.
By submitting your personal information, you agree that TechTarget and its partners may contact you regarding relevant content, products and special offers.
You also agree that your personal information may be transferred and processed in the United States, and that you have read and agree to the Terms of Use and the Privacy Policy.
Karen Graham took the job of CIO at Cooper Health Systems, Camden, NJ, she found herself overseeing a data center of 130 servers being backed up to standalone tape drives, and very poor media management practices.
"I was very uncomfortable about our ability to do disaster recovery," Graham recalls. Case in point, it once took the staff three days to recover a Microsoft Exchange server.
Since then, Cooper has contracted with IPR International, Conshohocken, PA, for its DataGuardian backup service. DataGuardian runs on 62 servers, for a total of about 1.2TB of data per month--"a relatively small amount of data," Graham admits, "but hugely critical to the organization."
IPR's service met Graham's requirements for redundancy, reliability, security and scalability, but she also liked its easy-to-use administration tool, and that it does not require server-side agents. As for Graham, her backup-induced anxiety is cured. "It's not a pressure point for me anymore," she reports.
Dig Deeper on Data storage strategy
PRO+
Content
Find more PRO+ content and other member only offers, here.