High-End Drives: What Will You Use?
In 2002, SCSI drives made up about 89% of drive shipments to the enterprise market...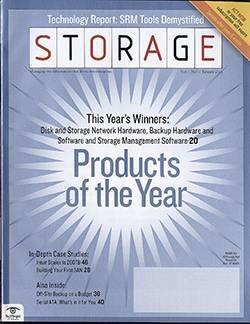 Download
In 2002, SCSI drives made up about 89% of drive shipments to the enterprise market, and Fibre Channel (FC) drives...
Continue Reading This Article
Enjoy this article as well as all of our content, including E-Guides, news, tips and more.
By submitting your email address, you agree to receive emails regarding relevant topic offers from TechTarget and its partners. You can withdraw your consent at any time. Contact TechTarget at 275 Grove Street, Newton, MA.
You also agree that your personal information may be transferred and processed in the United States, and that you have read and agree to the Terms of Use and the Privacy Policy.

11%, says TrendFocus, a storage market research firm.
But as companies deploy more FC SANs, will they also switch to FC drives? Probably not, says John Donovan, TrendFocus' vice president. Assuming a flat enterprise market, FC drives will command less than 20% of the market.
Starting in 2004, however, today's parallel SCSI drives will give way to serial-attached SCSI, or SA-SCSI, says Marty Czekalski, technical marketing manager at Maxtor and treasurer of the SCSI Trade Association.
What SA-SCSI buys you, Czekalski says, is dual porting and enhanced connectivity - features currently associated with FC disk drives. In the first generation of SA-SCSI, it will be possible to put up to 126 drives on a single loop - compared to today's 15 drives per channel limit.
SA-SCSI's success isn't a done deal, though. SA-SCSI "may have a good opportunity" to replace some FC disk drives," says Josef Rabinowitz, JMR Electronics' CEO, but "only if it comes out fast enough."
This was first published in
January 2003
Dig Deeper on Disk drives
PRO+
Content
Find more PRO+ content and other member only offers, here.