HBAs finally getting some respect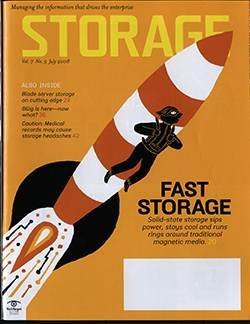 Download
Continue Reading This Article
Enjoy this article as well as all of our content, including E-Guides, news, tips and more.
By submitting your personal information, you agree that TechTarget and its partners may contact you regarding relevant content, products and special offers.
You also agree that your personal information may be transferred and processed in the United States, and that you have read and agree to the Terms of Use and the Privacy Policy.
The letters H-B-A represent the term host bus adapter, but they could just as well stand for "Hardly Been Acknowledged" or "Has Been Anonymous." But things are changing with the latest generation of HBAs.

An HBA--the interface card that connects a host computer to a Fibre Channel SAN--is pretty much invisible. In your storage infrastructure, you'll see arrays, switches, cables and subsystems, but nary an HBA, which is embedded in the server and may even come factory installed.

Adding to their Rodney Dangerfield "I don't get no respect" image, HBAs have the reputation of being "unsophisticated widgets," admits Herman Chao, director of product management with Brocade's server division. "You turn it on, configure it once and you're done," he says.

"For an administrator installing a SAN, the big ticket item is the storage they buy from an EMC," adds Amit Vashi, QLogic's VP of marketing. "Then they buy the servers, then the switches. The last thing they think about is the HBA."

But the underappreciated HBA may finally be getting its due. Roughly every three years, a new generation of HBAs hits the market. Brian Reed, VP of business development at Emulex, says the new 8Gb/sec HBAs have the sophisticated functionality to handle two pervasive data center trends: server virtualization and the explosive use of server blades.

In addition to doubled speed, these new HBAs provide the higher IOPS needed to work with faster processors (Brocade claims its HBA delivers 500,000 IOPS), and help servers that need to access more storage resources than ever.

Their power and cooling requirements are also dropping. Chao says while previous-generation HBAs required 150 linear feet of airflow per minute, Brocade's HBA requires no airflow. QLogic claims it can save 400 mW of power per each of its 8Gb HBAs through power-management techniques. "You may think, 'What's the big deal to save half a watt?'" says Vashi. "But a typical HBA consumes six watts of power. If you have 1,000 servers in your data center, you have 5,000 HBAs. That's a huge power savings."

But the biggest challenges for HBA makers are virtual server environments, where the model of "one application to one server" doesn't apply. In the 1:1 model, it was easy for a management tool to associate the HBA to the app. But when five or more virtual servers on a single server are sharing an HBA, you need more movement of data and apps across different physical servers. The 8Gb HBAs have server virtualization features for managing the queues and allowing the different guest OSes to talk directly to an HBA without sacrificing performance. The new HBAs also include N_Port ID Virtualization, which creates logical ports for multiple virtual machines so applications can be identified as they migrate between servers.

And, according to Reed, the same drivers that support Emulex's 8Gb HBAs will support 10Gb converged network adapters when those Fibre Channel over Ethernet-capable devices appear.

With HBAs becoming a more critical piece of the IT infrastructure, it's good that they're getting more sophisticated. "If a graphics card malfunctions because of some driver bug, the sky won't fall," says Vashi. "You just won't see certain things on your screen. But if an HBA in your SAN fails, all of your critical storage data will get corrupted."

--Peter Bochner
Dig Deeper on SAN technology and arrays
PRO+
Content
Find more PRO+ content and other member only offers, here.