Guest Opinion: IBM Makes the 'V' Word Respectable Again
IBM makes virtualization respectable again.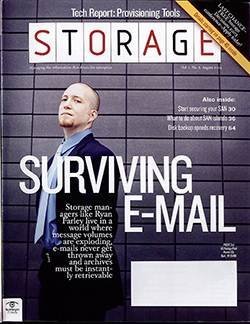 Download
The word "virtualization" came into vogue a few years ago with the usual fanfare, promising to solve all the storage...
Continue Reading This Article
Enjoy this article as well as all of our content, including E-Guides, news, tips and more.
management problems the industry was facing. It was going to improve storage utilization, allow for management of heterogeneous storage and simplify the development and use of all storage applications. Venture money poured in. Compaq, DataCore, FalconStor, StoreAge and others jumped into the fray.
And then reality set in. There were limitations. Customers were reluctant to put an NT-based appliance in front of a multimillion-dollar cluster of EMC Symmetrix arrays. They worried that the in-band appliance would become a bottleneck and wondered how far it would scale. Very quickly, the "V" word became a bad word.
All that changed with IBM's announcement of the SAN Volume Controller this summer. Now we expect the V word will become respectable again, not only for IBM customers but for the entire industry.
Why is that? Let's look at what IBM announced--software called SAN Volume Controller (SVC) that runs on xSeries servers running Linux. In terms of functionality, let's assume it's similar to other virtualization products. What's important about SVC is that it lets the customer take steps toward moving intelligence into the network. Equally important, because it's an IBM technology, customers have no qualms about putting it in front of a Shark or FAStT. If they were using peer-to-peer remote copy for synchronous replication, they can still enjoy this functionality through the SVC storage engine, but the functionality is much more powerful because it's no longer limited to a Shark. It lets you replicate from an expensive box to a cheaper box--or from any box to any box, really. You can also do snapshots, mirroring and replication across a heterogeneous pool of storage. Storage utilization improves, and you can make changes to volumes on the fly.
Aren't these all the benefits of virtualization? Of course they are. The difference here is that they come from a large company that IT has come to trust. We think the industry will start viewing virtualization for what it is: an excellent technology that enables management of heterogeneous storage, drives intelligence to the network and simplifies development of new applications. IBM put a stamp of approval on the concept, much like Veritas did years ago for the host version. The V word is respectable again. --Arun Taneja, the Taneja Group
Dig Deeper on Storage virtualization
PRO+
Content
Find more PRO+ content and other member only offers, here.