First Look: Crossroads Systems' DataMover 240f
Crossroads Systems' DataMover 240f is a SAN edge device that takes on one of the most vexing backup bottlenecks by keeping data flowing through the network pipes.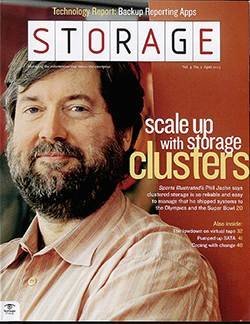 Download
DataMover 240f fills network pipes with data, removing a substantial bottleneck in the backup process.
Continue Reading This Article
Enjoy this article as well as all of our content, including E-Guides, news, tips and more.
By submitting your email address, you agree to receive emails regarding relevant topic offers from TechTarget and its partners. You can withdraw your consent at any time. Contact TechTarget at 275 Grove Street, Newton, MA.
You also agree that your personal information may be transferred and processed in the United States, and that you have read and agree to the Terms of Use and the Privacy Policy.

@exb
At a Glance: DataMover 240f

Company:
Crossroads Systems Inc.
Product:
Crossroads' DataMover 240f
What it does:
Expedites data movement on Fibre Channel SANs during backups and restores
Upside:
Reduces the need for additional backup server media licenses and improves the performance of existing tape drives
Downside:
Backup product needs to support the Xcopy SCSI command; setup process can be tedious
Cost:
$10,000 per unit
@exe The DataMover 240f, from Austin, TX-based Crossroads Systems Inc., addresses one of the remaining bottlenecks in the backup process: the inability to fill network pipes with data. Technologies like virtual tape and disk-to-disk backup reduce backup times by eliminating "shoe shining," but don't necessarily move data across the network more efficiently or faster.
DataMover 240f resides in the SAN as an edge device and is presented to and communicates with the primary backup server via two Fibre Channel (FC) control paths. The backup server still manages the backup, but offloads the processing of the data to the 240f. The changed data blocks of each backup job are still stored in the backup software's catalog, so the backup software is aware of what data has changed and needs to be backed up. And because DataMover 240f can handle up to eight backup jobs concurrently, once a job is under way, the backup server can initiate another job for another server.
The DataMover 240f typically uses only four ports to move data from the storage array to the tape drives, and the four ports will access the disk and tape ports. While this may seem to be a bottleneck, it allows DataMover 240f to dedicate 20MB/sec to each of the four disk and tape channels for backup traffic, more than double the typical rate.
The ability to configure DataMover 240f with dedicated FC paths from disk to tape outweighs some of the advantages of moving data to a virtual tape device rather than transferring it directly to real tape. Once the 240f receives the go-ahead from the backup software to start moving data blocks, it can stream the data directly from the disk subsystem to the tape drive.
W. Curtis Preston, VP of data protection services at GlassHouse Technologies, Framingham, MA, finds data mover technology a good option for those struggling with backup and restore methods. "Shops who have multiterabyte databases and shrinking backup windows need to explore options like server-free backup to meet their data protection requirements," he says. But Preston cautions that setting this process up can be complex, and DataMover 240f is only one piece of the puzzle.
The complexity is evidenced in either of the two scenarios in which DataMover 240f is deployed. In the first, a snapshot of the data must be taken before DataMover 240f transfers data from disk to tape. This requires administrative time to coordinate the setup and execution of the snapshot and movement of the data from disk to tape. In the other scenario, the backup server is given access to the application server's volume and the application data is quiesced until the backup completes. Administrators may not find this configuration desirable because they'll lose control of these volumes until the backup completes.
Administrators who successfully navigate the setup process should see substantial improvements in backup and restore times. Crossroads' own testing using LTO-2 tape technology showed a throughput of 20MB/sec or more vs. typical rates of 7MB/sec to 10MB/sec. DataMover 240f can extend the life of existing storage device investments while improving performance.
Dig Deeper on Fibre Channel (FC) SAN
PRO+
Content
Find more PRO+ content and other member only offers, here.