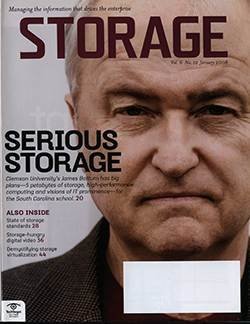 Download
Continue Reading This Article
Enjoy this article as well as all of our content, including E-Guides, news, tips and more.
By submitting your personal information, you agree that TechTarget and its partners may contact you regarding relevant content, products and special offers.
You also agree that your personal information may be transferred and processed in the United States, and that you have read and agree to the Terms of Use and the Privacy Policy.
This fall, less than three years after attorney George Socha, Jr. co-founded the Electronic Discovery Reference Model (EDRM) industry group, EDRM announced an XML standard and a free instructional road map for anyone--storage vendors, document management specialists, insurance companies, law practices and consulting firms--doing ediscovery work.

By the close of this month, Socha expects the list of service providers and vendors supporting the XML standard to reach approximately 20. The new standard should reduce errors and labor dedicated to ediscovery, while simplifying and speeding up the sharing of information across various apps.

"I think the timing is good," says Socha, who practiced law for 16 years before becoming a consultant and beginning his EDRM work. "This is still a very young industry. If you have been actively working in the electronic discovery area--I mean really working hands-on--anywhere from three to five years, then you are an old hand."

Attempting and encouraging a widespread XML standard two years ago, when there was still so much confusion about how to define ediscovery, would have been futile, he says. Now, though, EDRM has more than 70 participating organizations. And ediscovery management has been pushed to the top of many 2008 IT agendas.

In a simple ediscovery scenario, a service provider might be asked to process a million files and then maybe 40,000 records (a subset) would be extracted and sent to the lawsuit's opposing side. Mucking up that process, says Socha, "are quite literally hundreds of proprietary formats, probably 20 or 30 that dominate, and none of them are compatible."

Software and service companies such as Attenex, Clearwell Systems, MetaLincs, PSS Systems, Recommind and Zantaz (an Autonomy company) have announced support for the standard. Version 1.0 of XSD, EDRM's roadmap for using XML for ediscovery, has been downloaded 116 times by subscribers to the EDRM.net blog.


--Ellen O'Brien
Dig Deeper on Data storage management
PRO+
Content
Find more PRO+ content and other member only offers, here.