Dual-protocol arrays appeal to users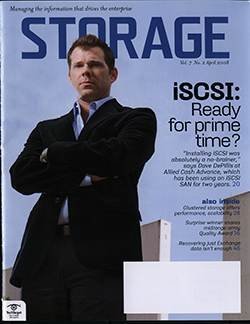 Download
Continue Reading This Article
Enjoy this article as well as all of our content, including E-Guides, news, tips and more.
By submitting your personal information, you agree that TechTarget and its partners may contact you regarding relevant content, products and special offers.
You also agree that your personal information may be transferred and processed in the United States, and that you have read and agree to the Terms of Use and the Privacy Policy.
SAN users once forced to choose between iSCSI and Fibre Channel (FC) no longer have to make that tough decision. As consolidation and server virtualization drive iSCSI adoption, the newer protocol is making its way into storage environments as a complement to the proven FC protocol. Users can have the best of both worlds, pairing iSCSI and FC in one dual-protocol SAN array.

Jim Poteet, director of technology at Overland Park, KS-based StoreFinancial Services, wanted both protocols when his company implemented an EMC dual FC and iSCSI array. Phil Treide, EMC's manager of Clariion marketing, notes that EMC now ships more than 50% of its Clariions as dual protocol with iSCSI.

StoreFinancial, a provider of multimerchant gift cards, must meet a seven-second industry-standard response time when connecting to card networks for authorizations. "We wanted to have fibre to make sure we would respond appropriately to our card networks," says Poteet. "And we wanted to have iSCSI so that we can actually tie in other servers."

Poteet's main concern was StoreFinancial's carefully calculated I/O demands, requiring high-performance write capabilities to handle seasonal needs in December and January, when shoppers use the cards most.

"There's only a couple days of the year that drive [8,000 IOPS]," says Poteet. "But when we need it, we need it."

A two-protocol system can usually be had for a little more than the price of one. Treide says EMC's all-FC machine costs the same as a dual-protocol machine.

Nate Amsden, senior system engineer at Seattle-based Jobster, was looking for an easy-to-manage SAN when he chose a dual-protocol 3PAR system in early 2007. "I wanted something that was flexible enough that we could throw all sorts of workloads at it," says Jobster's Amsden. "I like the Fibre Channel because it's higher throughput, more speed. I like the iSCSI because it's so flexible."

Jobster uses FC for primary systems like MySQL and Oracle. Amsden estimates there are 19 or 20 other systems on iSCSI. "The performance-critical [servers] are all Fibre Channel at this point," he says. "I'm trying to increase our use of Fibre Channel." Amsden likes iSCSI for Jobster's virtualized servers, and for snapshotting and volume cloning.

David Scott, 3PAR's president and CEO, says his company has seen connect rates supporting iSCSI jump from 20% to 34%. "For us, that signifies customers wanting to use both FC and iSCSI off of the same shared storage array," he says, "rather than any movement to iSCSI-only configurations." Scott says most 3PAR customers have a significant FC infrastructure in place, and iSCSI is often added to the mix to consolidate Intel servers. He calls it "the next phase of consolidation."

But does a dual-protocol SAN double an administrator's headaches? It could, says Kevin Sampson, director of product marketing at Hitachi Data Systems. "Understand, you're managing two SANs," he says. "If you have dual protocol, you're sacrificing some ports." When Hitachi does dual-protocol business, he says, "it's almost a cultural thing," where users simply want the new technology without a specific plan for it.

According to Jeff Boles, technology analyst and director of technology validation services at Hopkinton, MA-based Taneja Group, another protocol doesn't necessarily add complications. "When you have them in the same storage chassis, there's not much overhead there, especially when you're considering the added benefits and flexibility," he says. Boles thinks that while users might not have a specific iSCSI implementation plan, "users are starting to expect iSCSI in a storage platform as a checklist item."

Amsden doesn't envision Jobster choosing one protocol over the other. "iSCSI is great," he says, "but I don't feel confident in the amount of throughput that iSCSI can provide to a large number of hosts."

--Christine Cignoli
Dig Deeper on SAN technology and arrays
PRO+
Content
Find more PRO+ content and other member only offers, here.