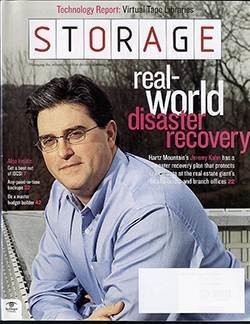 Download
Hard-drive failures push people to the brink, says Kelly Chessen, data crisis counselor at data recovery specialist...
Continue Reading This Article
Enjoy this article as well as all of our content, including E-Guides, news, tips and more.
By submitting your personal information, you agree that TechTarget and its partners may contact you regarding relevant content, products and special offers.
You also agree that your personal information may be transferred and processed in the United States, and that you have read and agree to the Terms of Use and the Privacy Policy.
DriveSavers Data Recovery, Novato, CA.
A former suicide-prevention hotline operator, Chessen says people asking themselves the big existential questions are similar to people who just lost their data.
"They're frustrated; they feel helpless; they're looking for answers. Sometimes they cry," Chessen says. "They're in a state of crisis, whether they've lost their entire business or their baby pictures."
Dealing with data-loss sufferers follows the same basic process as with suicide contemplators. "You let them vent; you let them get their feelings out; and then you help them find a direction," she says. What's nice about this job is there's practically always a solution--DriveSavers has a 90% success rate getting data back, Chessen reports.
If they're looking for someone to blame, Drive-Savers' customers can usually blame themselves for neglecting to do regular backups.
But Chessen avoids lecturing them. "People know they should have been backing up," she says. "It's not my job to remind them of that."
Dig Deeper on Disk arrays
PRO+
Content
Find more PRO+ content and other member only offers, here.