Data classification still mostly a piecemeal approach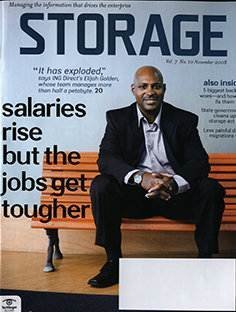 Download
Continue Reading This Article
Enjoy this article as well as all of our content, including E-Guides, news, tips and more.
By submitting your personal information, you agree that TechTarget and its partners may contact you regarding relevant content, products and special offers.
You also agree that your personal information may be transferred and processed in the United States, and that you have read and agree to the Terms of Use and the Privacy Policy.
travis mcculloch, systems architect at Hilton Grand Vacations Co. in Orlando, FL, knows the value of data classification. But like so many users, he hasn't yet figured out the best way to categorize, assign and relegate every piece of data in his 20TB environment.

For now, McCulloch is using the data classification technology in CommVault's Simpana software (Data Classification Enabler) to shorten backup windows that once stretched on for hours. "For some of our huge file servers, we're seeing a backup that takes only 20 minutes--it was taking seven or eight hours before," he says. The product is an agent plug-in, explains McCulloch. "It creates an index on the system itself. It also keeps another index of what's changed," he says.

Brian Babineau, an analyst at the Milford, MA-based Enterprise Strategy Group, says backup is a great place to start using data classification technology. "It's not just about creating a copy anymore," he says. "Now you can know what's in the copy."

McCulloch isn't yet using any data classification technology outside of backups. "It's on the roadmap," he says. "We haven't got it to the point where I'm comfortable rolling the thing up." CommVault offers data classification outside of backups, and McCulloch says it's on the list of vendors he might consider.

But McCulloch doesn't want to start by choosing a vendor--he wants a strategy. "There are too many solutions to try to pick one and figure it out," he says. "We're in the middle of trying to figure out what we need. You have to talk to the legal folks, talk to the developer folks, talk to the marketing folks; there are a lot of pieces."

Analysts say McCulloch is representative of many users when it comes to data classification. There's a lot of interest and a growing need, and the technology is improving. But outside of law firms, which are driving data classification purchases for ediscovery, many IT shops are just getting their heads around widespread data classification.

"Adoption has been rather limited, finding its niche in vertical areas such as legal compliance," says Greg Schulz, founder of StorageIO Group in Stillwater, MN. "One of the challenges with data classification is that to be effective on a broader basis, solutions need to scale in a stable and predictive manner."

Last year, 74% of Storage readers who completed our monthly survey said they had deployed or would deploy data classification tools. But 71% cited the development of policies as their greatest challenge.

Many users have configured their own workarounds. Sunil Nemade, CIO in the Seventeenth Judicial Circuit in Broward County, FL, created a "mini-data warehouse" that collects data from various databases and then runs Crystal reporting tools against it.

John Wooley, director of IT at Nielsen Mobile in San Francisco, says the concept of data classification doesn't "seem that interesting to me." He'd like a traditional storage resource management (SRM) tool to label his data by categories such as owner, age and last access. For now, he's writing scripts or using the free SpaceMonger tool for one-off discoveries.

Babineau says it's helpful for users to remember that data classification tools fall into four categories: traditional SRM, ediscovery, archiving and data loss prevention.

"There isn't a separate market for the data classification guys," says Babineau. "The vendors have fallen into place on where they're going to participate." Kazeon Systems and StoredIQ, for example, are focused on ediscovery and compliance. Data classification technology goes beyond archiving, says Babineau, although some archiving products offer classification features. "But some of these [data classification] solutions have a richer index for searching and provide taxonomies about the data." The best way to make a classification tool work for you is to test it, says Babineau. "Point it at a data source and let it go."


--Ellen O'Brien
Dig Deeper on Data storage strategy
PRO+
Content
Find more PRO+ content and other member only offers, here.