Cheap DR with Wireless MAN
Synchronous replication between remote EMC Symmetrix arrays isn't cheap.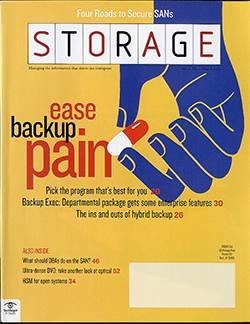 Download
Synchronous replication between remote EMC Symmetrix arrays isn't cheap. So when Cleveland-based Ohio Savings Bank...
Continue Reading This Article
Enjoy this article as well as all of our content, including E-Guides, news, tips and more.
By submitting your personal information, you agree that TechTarget and its partners may contact you regarding relevant content, products and special offers.
You also agree that your personal information may be transferred and processed in the United States, and that you have read and agree to the Terms of Use and the Privacy Policy.
built its disaster recovery site, it eyed telecommunications as a place to cut costs.
"The big problem with synchronous replication is that you need a really fat pipe," says Donald Janosik, senior network engineer at OSB. Instead, OSB went for a dedicated Gigabit Ethernet connection, with redundant CNT UltraNet Edge FCIP routers. This cost OSB about 9% more than a 44Mb DS3 link, but provided 22 times the bandwidth, Janosik says.
DS3 does have its advantages, says Karl Evert, partner marketing manager at CNT. Because SONET is a ring, data traffic can be rerouted if a link goes down. With Ethernet, "if a backhoe goes through your line, you're out of luck."
To guard against that, OSB installed Cisco's wireless WT2710 point-to-point broadband system. The beauty of wireless? Besides the equipment, there are no monthly communications charges.
Installation wasn't without its challenges, though. "We had to raise the masts at both the sites," Janosik says. "We must have been hitting an oak tree at first."
Dig Deeper on Storage Resources
PRO+
Content
Find more PRO+ content and other member only offers, here.