Chargeback ROI: Does accountability pay?
Chargeback for storage use is attracting a lot of interest. But does it make sense financially?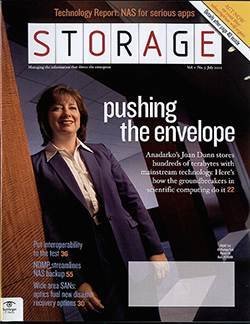 Download
Without a doubt, chargeback for storage use is attracting a lot of interest. But does it make sense financiall...
Continue Reading This Article
Enjoy this article as well as all of our content, including E-Guides, news, tips and more.
By submitting your personal information, you agree that TechTarget and its partners may contact you regarding relevant content, products and special offers.
You also agree that your personal information may be transferred and processed in the United States, and that you have read and agree to the Terms of Use and the Privacy Policy.
y?
Chargeback can save enterprises money, says IT ROI expert Tom Pisello, CEO and founder of Orlando, FL-based consulting firm Alinean, but only if it slows storage growth dramatically.
Pisello looked at what storage growth costs companies today. For example, a company with 1TB of storage today will increase that figure by 76% this year, or about 760GB, he projects. With a TCO of about $0.20 to $0.30/MB per year, 760GB of extra storage will cost about $200,000.
Then, Pisello looked at how much a chargeback program costs to establish: 25% of a storage professional's time ($25,000, assuming $100,000 annual salary and overhead), and 100% of an administrator's time - or about $75,000.
The bottom line? If the chargeback program manages to hold the line on storage use, a company could get back $1.66 for every $1 spent on accountability, Pisello says.
But if chargeback only slows growth by a realistic 40% to 60%, it's a toss-up whether chargeback is worth the hassle. "If you still get 40% of the growth in usage," he says, "the case is marginal."
- Anne Zieger
Dig Deeper on Data storage strategy
PRO+
Content
Find more PRO+ content and other member only offers, here.