BlackBerry strains Exchange storage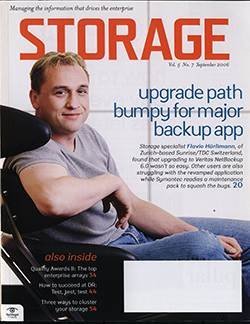 Download
Users complain that their BlackBerries are a ball and chain, but they're no picnic for storage admins either:
Continue Reading This Article
Enjoy this article as well as all of our content, including E-Guides, news, tips and more.
By submitting your personal information, you agree that TechTarget and its partners may contact you regarding relevant content, products and special offers.
You also agree that your personal information may be transferred and processed in the United States, and that you have read and agree to the Terms of Use and the Privacy Policy.
Continuous calls made by the devices to Exchange can cause enough "I/O thrash" to bring "an Exchange server to a grinding halt," says Steve Lewis, co-founder and CEO at Teneros, which makes the Application Continuity Appliance (ACA) for Microsoft Exchange, a high-availability product.
Teneros discovered this problem when it installed an ACA rated for 250 Exchange users at a customer site with 65 employees--all of them BlackBerry users. Because one BlackBerry user is equal to approximately 4.5 standard Exchange users, the ACA was "struggling," says Lewis. Similar performance problems happen when users have very large Exchange databases.
Teneros engineers fixed the problem by adding more disk spindles to the ACA. "With BlackBerry users, we've found that customers have to double-down on their SAN," says Lewis.
--Alex Barrett
PRO+
Content
Find more PRO+ content and other member only offers, here.