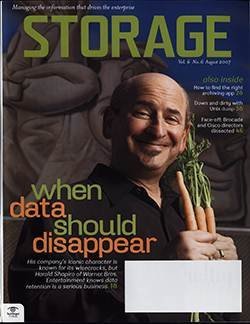 Download
Cut the juice to a storage array and it will try to minimize data loss largely by switching to battery power to...
Continue Reading This Article
Enjoy this article as well as all of our content, including E-Guides, news, tips and more.
By submitting your personal information, you agree that TechTarget and its partners may contact you regarding relevant content, products and special offers.
You also agree that your personal information may be transferred and processed in the United States, and that you have read and agree to the Terms of Use and the Privacy Policy.
keep what's in the system's cache intact until it can be written to disk.
But in a move that threatens to send the Energizer bunny to the unemployment line, Dot Hill Systems--a storage company whose products are often OEMed--has eliminated the need for batteries to protect a storage array's cache.
Dot Hill's 2730 Turbo storage controller uses super capacitors instead of batteries to power its cache backup. Capacitors, which are based on engineering theories that have been around for approximately 250 years, can store electricity until it's needed.
Super capacitors are pumped-up versions of the tiny electrical devices that can store enough energy to be viable as battery replacements. Dot Hill's design has been picked up and rebranded by several storage vendors, including Fujitsu and ONStor with its Pantera Clustered NAS.
--Rich Castagna
Dig Deeper on Data center storage
PRO+
Content
Find more PRO+ content and other member only offers, here.