Back Up to the Future
A magic ball to predict tape failures?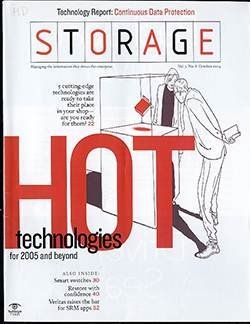 Download
There are many things that can cause a system failure--a virus, a hacker, an application or operating system update,...
to name a few. Wouldn't it be great if you could protect against that failure?
Symantec says you can, with its new LiveState Recovery 3.0, bare metal restore software that relies on Symantec system management and threat detection services to launch pre-emptive system backups.
The concept of event-driven backup isn't new, says Bob Nolan, CEO at Raxco Software, whose First Defense ISR is used by system administrators to take a point-in-time snapshot before, say, installing a service patch.
LiveState Recovery, however, provides a level of automation that seems unique. Introduced last month, the software reacts to triggers such as application installation, user login or logout or a surge in the amount of data written to disk. Subsequent releases will further integrate with Symantec's threat detection services, says Steve Fairbanks, director of product management for Symantec's enterprise administration and backup group, and respond to alerts from a drive's Self-Monitoring Analysis and Reporting Technology facility.
Dig Deeper on Storage Resources
PRO+
Content
Find more PRO+ content and other member only offers, here.