Evaluate
Weigh the pros and cons of technologies, products and projects you are considering.
Archive vendors looking to partner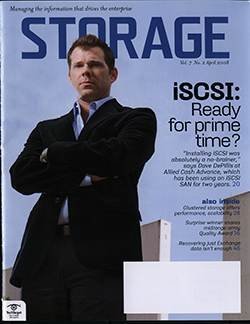 Download
Continue Reading This Article
Enjoy this article as well as all of our content, including E-Guides, news, tips and more.
By submitting your personal information, you agree that TechTarget and its partners may contact you regarding relevant content, products and special offers.
You also agree that your personal information may be transferred and processed in the United States, and that you have read and agree to the Terms of Use and the Privacy Policy.
ARCHIVING AND EDISCOVERY vendors are teaming up to meet customer demands for a smoother ediscovery process. The nascent ediscovery market continues to develop as organizations manage the ongoing fallout from the December 2006 changes to the Federal Rules of Civil Procedure (FRCP).

"Consolidation is trying to make decision-making for end users a little bit easier," says John Bace, research VP of IT and public policy at Gartner Research. "Vendors work in different areas of EDRM [Electronic Discovery Reference Model], and no one does it end to end." The only option for a start-to-finish solution, says Bace, is a custom job from a large service provider who will assemble the solution from available market parts.

Thomas Mueller, partner at New York City-based Morrison & Foerster LLP, and co-head of the firm's ediscovery task force, says "clients are struggling to get their arms around both ediscovery and archiving obligations." They want technology to solve the problem, but products "still require subjective judgments by individual users," he adds.

Some recent partnerships include Mimosa Systems pairing its archiving capabilities with RenewData's ediscovery services. Dell bought MessageOne for its email archiving, which helps it compete against Google's relaunched email archiving and discovery firm Postini. Iron Mountain purchased Stratify for legal processing in the fall of 2007 to strengthen its digital archiving business, while Hewlett-Packard (HP) agreed early in 2008 to resell the ediscovery tools of Clearwell Systems alongside its archiving platform.

In the case of Iron Mountain, the firm had been archiving data before sending it to Stratify. Now, says Brian Babineau, senior analyst at Enterprise Strategy Group, Milford, MA, they can just move data from one part of the infrastructure to the other. The other option is to layer the two software functions on top of each other, like HP is doing with Clearwell.

"There's a lot of money being spent here," says Babineau. Big vendors will continue to make investments and acquisitions, he adds, because customers want one tool source.

The challenges of ediscovery aren't going away, and more companies are handling ediscovery themselves rather than outsourcing, especially when juggling multiple lawsuits.

Bace points out that bringing ediscovery management in-house can be more effective. "If you spread matters over different law firms, there's inconsistency in what you mark for ediscovery," he says. "Lots of companies are building infrastructure in-house. Then they permit law firms to use the infrastructure to represent them in outside litigation."

Market consolidation and partnerships are a start, but improvements are still needed, says Babineau. "We've paid attention to how to handle emails and files, but 50% of discovery is database records," he says. "Customers have to look at database archiving solutions to centralize the information types."

Babineau predicts another, non-technological shift: A change in attitude. "Customers believe they can keep data inaccessible and they won't have to produce it on demand," he says. "Being ignorant and not making investments isn't going to fly."

--Christine Cignoli
Dig Deeper on Long-term archiving
PRO+
Content
Find more PRO+ content and other member only offers, here.