Brocade, McData Bolster Midrange Families
Dominant Fibre Channel switch vendors Brocade and McData have both made significant enhancements to their midrange 2Gb/s Fibre Channel switch platforms.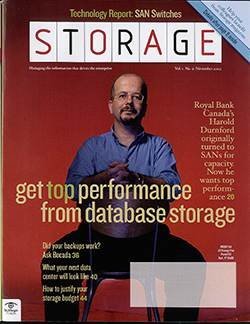 Download
Dominant Fibre Channel switch vendors Brocade and McData have both made significant enhancements to their midrange...
Continue Reading This Article
Enjoy this article as well as all of our content, including E-Guides, news, tips and more.
By submitting your personal information, you agree that TechTarget and its partners may contact you regarding relevant content, products and special offers.
You also agree that your personal information may be transferred and processed in the United States, and that you have read and agree to the Terms of Use and the Privacy Policy.
2Gb/s Fibre Channel switch platforms: Brocade, with its new 32-port SilkWorm 3900, and McData with the 24-port Sphereon 4500.
According to Steve Beer, director of product marketing for Brocade's high volume platforms, the 3900 will be used by organizations that already have a SAN, but are ready to expand their port count. "It's a cost-effective building block that lets you have a limited number of switches for management purposes, but still have a relatively high port count," he says. Alternately, says Beer, the 3900 could be used as an edge switch, as a complement to a SilkWorm 12000.
McData's Sphereon, meanwhile, targets the same basic niche-departmental workgroups, as well as large SAN environments that need edge switching capabilities, says Arun Taneja, senior analyst at the Enterprise Storage Group. The Sphereon 4500 also features online diagnostic tools, redundant power and cooling and free SANPilot software for managing SANs of up to six switches.
The Sphereon comes with 24 ports, but users can start with 8 or 16 ports, and upgrade with a simple software key. Randy Kerns, senior partner at the Evaluator Group, describes this as "a nondisruptive, economical way to grow your switching needs," that will be very appealing to small- to medium-sized businesses.
In edge deployments, the question isn't so much scalability, as it is hot code load and activation - the ability to upgrade a switch's firmware without having to take it offline and restart it, says ESG's Taneja. McData's 4500 supports both, while Brocade's 3900 only supports hot code activation with its Fabric OS 4.1, anticipated in Q103.
"I think that hot code load will be important in every switch product-not just directors," says Taneja. "If you're using both core director and edge switches, you want to be able to upload [the firmware] without bringing them down."
Dig Deeper on SAN technology and arrays
PRO+
Content
Find more PRO+ content and other member only offers, here.