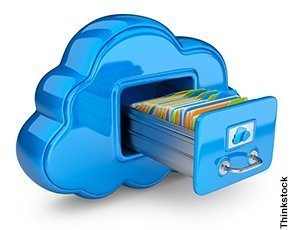 IT shops have an increasing number of choices for data storage in the cloud. This cloud storage providers comparison guide provides an overview of the external or public cloud storage services of the most prominent providers with an eye toward some of the basic practical considerations potential customers need to evaluate.
Use cases for the cloud-based storage services of Amazon Web Services Inc., AT&T Inc., Google Inc., Hewlett-Packard Co., IBM, Microsoft, Nirvanix Inc. (Ed Note: filed for bankruptcy protection in October 2013) and Rackspace Hosting Inc. include primary storage of application data, content distribution, backup, archival storage and disaster recovery. These cloud storage providers differentiate their offerings on factors such as price, connection options, service-level agreements (SLAs) and data center location.
Only the largest of IT shops with in-house developers might consider doing the actual programming work to send their data to the object-based storage systems of the major cloud providers. Far more companies use gateways either from their chosen cloud storage providers, if they have products, or a third party.
Cloud gateways handle the conversion to the REST-based APIs that cloud providers generally use with their infrastructure, leaving customers with more familiar interfaces such as CIFS and NFS for files or iSCSI for block data on the front end. Many gateway products offer additional features, such as encryption, deduplication and snapshots. They also often provide on-premises caches for the most frequently accessed data, so users won't have to fret over Internet latency or a potentially crippling outage of their cloud storage provider service.
"It's pretty rare to find clients developing their own code to connect to raw cloud storage services," said Gene Ruth, a research director at Stamford, Conn.-based Gartner Inc. "Typically, when I'm talking to clients, they're having a conversation about the cloud vendor, the ramp into their cloud storage, the software around it [and] the total solution." He said turnkey solutions would be better for customers, because they would need to deal with only one vendor.
Our comparison of cloud storage providers includes an in-depth breakdown of what you can expect from each provider, including services, cloud pricing and SLAs.
Amazon Web Services (AWS) Inc. is one of the most established and popular cloud storage providers in the market. The company claims its Simple Storage Service (S3), stores more than a trillion objects for hundreds of thousands of customers. Other Amazon services include a Reduced Redundancy Storage option for S3, Amazon Glacier for long-term archival storage and the AWS Storage Gateway service for integrating a customer's on-site environment with the S3 cloud infrastructure.
Amazon has dropped prices more than 25 times since S3 hit the market, and other providers tend to follow suit.
AT&T Synaptic Storage as a Service leverages its Internet data centers scattered around the globe and EMC Corp.'s Atmos object storage for the cloud. Other distinguishing features of AT&T's cloud storage service include data compression capabilities, the choice of its virtual private network or the public Internet, and special rates for customers who elect to commit to a specific amount of storage.
Google Cloud Storage targets developers with plenty of tips, tools and code samples. Late last year Google introduced an experimental Durable Reduced Availability (DRA) Storage option at lower cost and lower availability. The feature targets data backup and batch jobs. Google announced last month that it was removing the experimental label and offering a service-level agreement of 99.0% availability.
IBM SmartCloud Enterprise (SCE)-Object Storage is a key part of IBM's SCE public cloud Infrastructure-as-a-Service initiative. The service uses dedicated disk-based hardware, Nirvanix Inc.'s object storage software and third-party data centers operated by Equinix Inc. The company said most customers use third-party gateway products to access the service.
Microsoft Windows Azure Storage lays claim to sizeable service numbers: more than 4 trillion objects and an average of 270,000 requests. These numbers show that Windows Azure Storage has staked out its turf as one of the largest cloud storage providers.
Microsoft offers an array of storage services. For connectivity, the company took a step beyond the usual partnership agreements with cloud storage gateway vendors with its acquisition of StorSimple Inc.
Nirvanix Inc. launched its Storage Delivery Network, now known as the Cloud Storage Network, more than five years ago. The company has offered public, hybrid and private cloud storage services as well as CloudNAS gateway software to enable customers to connect from their on-premises infrastructure. On October 1, 2013, the company filed for Chapter 11 bankruptcy protection. You can learn more about this development by reading "Users scramble to find a Nirvanix exit strategy.
Rackspace Hosting Inc.'s Cloud Files marks its five-year anniversary in 2013. Among the cloud-based storage service's distinctions are its open source OpenStack Object Storage software. Rackspace charges only for storage usage and outgoing bandwidth and/or Content Delivery Network usage. The company does not charge for support or requests of Cloud Files objects.
HP Cloud Object Storage went live to a general audience in July 2012. The service uses open source OpenStack Object Storage software, and copies and stores objects three times in separate availability zones. HP operates the service on its own disk-based hardware and guarantees 99.95% uptime.