Evaluate
Weigh the pros and cons of technologies, products and projects you are considering.
NAS storage systems satisfaction survey: EMC, Hitachi earn top marks
NAS storage systems are the storage workhorses of most data centers; EMC's and Hitachi Data Systems' NAS entries lead a strong field in our satisfaction survey.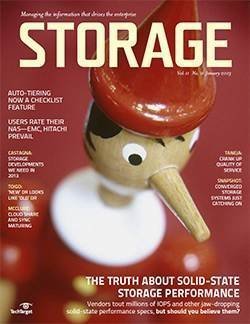 Download
NAS storage systems are the storage workhorses of most data centers; EMC's and Hitachi Data Systems' NAS entries...
Continue Reading This Article
Enjoy this article as well as all of our content, including E-Guides, news, tips and more.
By submitting your personal information, you agree that TechTarget and its partners may contact you regarding relevant content, products and special offers.
You also agree that your personal information may be transferred and processed in the United States, and that you have read and agree to the Terms of Use and the Privacy Policy.
lead a strong field in our satisfaction survey.
The Storage magazine/SearchStorage.com Quality Awards for network-attached storage (NAS) have always been a wide open affair. The enterprise group has had six different winners in seven years, and after NetApp Inc. dominated early with three straight wins, there have been four different midrange NAS winners. In the latest installment of the user satisfaction survey, EMC Corp. regained the top spot among the enterprise group after being nudged out of the top NAS storage systems spot by Oracle Corp. last year, and Hitachi Data Systems Corp. prevailed among the midrange products, its first win since topping the enterprise field in the very first NAS Quality Awards survey.
Overall rankings

Overall ratings: Enterprise NAS systems
Enterprise: EMC had the highest scores in two of the rating categories and tied for first in another on its way to a winning overall score of 6.84. NetApp captured two categories and finished in the top three in two others to roll up an overall 6.75. That was just enough to nudge out IBM (6.70), which registered a remarkably consistent performance with category scores ranging from 6.60 to 6.78, including one tie for first place. The average of all scores was a bit lower than in the past two surveys, but higher than all earlier editions. In a strong field, Dell Inc. acquitted itself well with a 6.57, and first-time finalist DataDirect Networks Inc. debuted with a solid 6.27.

Overall ratings: Midrange NAS systems
Midrange: Hitachi held off the midrange pack with an overall rating of 6.92, the third highest score ever on a NAS Quality Awards survey. IBM, EMC and Dell all proved worthy competitors, but Hitachi overcame the challengers by garnering top marks in four of the five rating categories. Still, it was a close contest with ever-present IBM a strong second at 6.81, EMC edging Hitachi by 0.01 point for initial product quality en route to a 6.75 rating and Dell posting a sturdy 6.66. If IBM was the model of consistency in the enterprise group, Hitachi was a paragon of consistency among its midrange peers: Its highest category rating was 6.97 and its lowest was 6.87, a slim span of only 0.10 point.
Sales-force competence

Sales-force competence: Enterprise NAS systems
Enterprise: Apparently, EMC's and IBM's sales forces do a good job of paving the way for their NAS products, as they finished the category in a dead heat. On the six rating statements, EMC's strengths were for having a sales force knowledgeable about customers' industries, understanding their businesses and being easy to negotiate with. IBM stood out for having sales reps who keep customers' interests foremost, sales reps who are flexible and knowledgeable sales support teams. There were few slouches in this group, with an overall sales-force competence average that trailed only two previous surveys. Dell's third-place finish was highlighted by a 6.74 for understanding its customers' businesses.

Sales-force competence: Midrange NAS systems
Midrange: Hitachi's triumph in the midrange group was achieved by winning five of the six statements -- with scores of 7.00 for "My sales rep understands my business" and "The vendor's sales support team is knowledgeable" -- to help it toward a 6.90 category average. Second-place IBM posted statement scores ranging from 6.58 to a 6.78 for "My sales rep is knowledgeable about my industry." EMC's top score (6.79) was for being easy to negotiate with, while Dell earned its best mark (6.79) for having a knowledgeable support team. As did its enterprise brethren, the midrange group netted an average for the category (6.42) that was among the highest we've seen, just a shade off last year's 6.44.
Initial product quality

Initial product quality: Enterprise NAS systems
Enterprise: NetApp notched one of its two category wins for initial product quality, riding 7.00-plus scores for products that are easy to get up and running and that need little vendor intervention. Its overall score of 6.90 was just enough to beat back a challenge from EMC at 6.85. EMC had the only other over-7.00 statement score for "This product was installed without any defects" (7.07). IBM was hard on EMC's heels with a category average of 6.78, including a 6.94 for the statement "This product delivers good value for the money." The enterprise products did well on the "good value" statement with an average score of 6.45, the highest among all category statements.

Initial product quality: Midrange NAS systems
Midrange: EMC bested Hitachi in initial product quality by a minuscule 0.01 -- 6.88 to 6.87. But Dell and IBM dogged the leaders with a 6.79 and 6.76, respectively. With such high ratings, it's not surprising there were five 7.00-plus statement scores, including three for Hitachi. For the statement "This product was installed without any defects," EMC (7.05), Hitachi (7.00) and Dell (7.00) all topped or equaled the 7.00 mark. EMC and Hitachi also split superiority on individual statements, with three each. Vendors apparently have burnished the out-of-the-box experience, with high marks for installing without defects, not requiring excessive professional services, ease of use and delivering good value.
Product features

Product features: Enterprise NAS systems
Enterprise: The product features rating category has traditionally been one of the strongest for network-attached storage systems, as vendors are apparently building in capabilities that meet -- or exceed -- users' needs. NetApp snagged its second category win, but by the slimmest of margins as it outdistanced EMC by a mere 0.01 point. Both product lines fared well on all seven statements in the category, with NetApp having the best scores for features generally meeting needs (6.97), mirroring features (6.96), snapshotting capabilities (6.88) and scaling (6.88). EMC prevailed on the three remaining statements: remote replication (6.96), interoperability with other vendors' products (6.90) and management features (6.77). IBM's category rating score of 6.69 was good for third, highlighted by a 6.78 for "Overall, this product's features meet my needs."

Product features: Midrange NAS systems
Midrange: Based on category ratings, the NAS storage systems features race among the midrange group is hotly contested. Hitachi's 6.95 led the field on the strength of a 7.17 for mirroring features and a 7.06 for snapshots. IBM and EMC finished second and third, respectively, but were separated by only 0.01 point; both had ratings of 7.00 or better for capacity scaling. IBM just missed another 7.00 score with a 6.96 for remote replication, while EMC fell shy of 7.00 for mirroring (6.95). Dell (6.72) came in a very competitive fourth, with a 6.88 for overall feature set and a pair of 6.84 ratings for snapshotting and mirroring.
Product reliability

Product reliability: Enterprise NAS systems
Enterprise: EMC's second category win came for product reliability, for which it achieved a mark of 6.94 -- good for the highest average for all enterprise products in all ratings categories. EMC outran NetApp (6.84) and IBM (6.71) by leading on four of the five category statements and topping 7.00 on two of them (meeting service-level requirements and products that experience very little downtime). NetApp fared best for providing upgrade advice (6.94) and did quite well on the downtime and service-level statements. IBM's third-place score was bolstered by a 6.94 for meeting expected service levels. The group's average for delivering service per requirements was its highest for the category.

Product reliability: Midrange NAS systems
Midrange: Hitachi (6.97) faced a strong challenge from IBM (6.93) in the product reliability category for midrange NAS, as both had multiple 7.00-plus ratings. Hitachi's 7.00s were for meeting service-level requirements (7.06), having non-disruptive patching (7.06) and providing comprehensive upgrade guidance (7.00); IBM rated more than 7.00 for products that experience little downtime (7.08) and the service-level statement (7.04). EMC (6.78) and Dell (6.69) also had solid performances in the reliability category; in fact, the entire field did well, with all product lines averaging 6.00 or higher for the category. Meeting expectations and delivering consistently were hallmarks for this group, with the highest group averages coming on those two statements.
Technical support

Technical support: Enterprise NAS systems
Enterprise: EMC (6.87) climbed to the top of this category by slipping past three vendors -- Dell (6.72), NetApp (6.70) and IBM (6.60) -- that have proven their tech support mettle in previous surveys. EMC earned the top spot with a dominant performance that featured the best scores on six of the eight statements, including a 7.11 for having knowledgeable support personnel and a 7.00 for delivering support as promised. Dell had a 6.97 for "Vendor takes ownership of the problem." NetApp's highest score was 6.81 for having knowledgeable personnel, while IBM's 6.71 was the group's best for providing adequate training.

Technical support: midrange NAS systems
Midrange: Hitachi earned its fourth category victory for technical support, coming out on top on five rating statements to average a 6.92 for the category over IBM's 6.81. Hitachi's advantage was due to a 7.06 for resolving problems in a timely manner and a 7.00 for rarely requiring escalation of support issues. IBM won the other three statements, with a 6.93 rating for documentation and support materials, a 6.89 for supplying support as contractually specified and a 6.81 for providing adequate training. EMC (6.62) and Dell (6.60) also enjoyed strong showings in the tech support category; EMC earned its best mark for the ownership statement (6.89), while Dell's best effort was for documentation (6.82).
Would you buy this product again?

Enterprise NAS systems: Would you buy this product again?
Enterprise: In addition to specific ratings across the five categories, we also ask respondents if they would buy the same product again after using it for some time. For enterprise NAS systems products, the across-the-board average of "yes" votes was among the highest we've ever seen, with three vendors (IBM, EMC and Hewlett-Packard Co.) finishing in a tie at the top. We also try to get an idea of how heavily used these systems are; the highest average installed capacity among enterprise NAS systems was 102 TB for Oracle followed closely by EMC with an average of 100 TB.

Midrange NAS systems: Would you buy this product again?
Midrange: Hitachi not only led the midrange group but topped its enterprise siblings with an average installed capacity of 114 TB; EMC again was second, this time with an average of 87 TB. In the "buy again" tally, EMC (95%) nipped Hitachi (94%) and HP (91%). It's interesting to note that HP, despite not finishing among the top three for any rating category, has nonetheless earned a very loyal following.
Products in the survey
The following products were included in the Quality Awards for NAS survey. The number of responses for each finalist is shown in parentheses. An asterisk after the product name means it received too few responses to qualify as a finalist.
Enterprise NAS: DataDirect Networks Inc. NAS Scaler/GRIDScaler/EXAScaler/xSTREAMScaler (26); Dell Inc. PowerVault NS-480/Compellent Storage Center zNAS/EqualLogic FS7500 (34); EMC Corp. Celerra NS-480/NS-960 or VG8 or VNX 7500 NAS or Isilon IQ X-Series (47); Hewlett-Packard (HP) Co. StorageWorks EFS Clustered Gateway or StorageWorks X5000/X9000 Storage Systems (27); Hitachi Data Systems Corp. Essential NAS Platform 1000 Series or NAS Platform 3000 Series (BlueArc Titan 3000 Series)*; IBM N6000 or N7000 or Scale Out Network Attached Storage (SONAS) (19); NetApp Inc. FAS3000/3100 or FAS6000 (all with NAS interface) (34); Oracle Corp. Sun Storage 74xx Unified Storage System (with NAS) or Pillar Data Systems Axiom NAS; Panasas Inc. ActiveStor 9 Series/11 Series/12 Series/14 Series*
Midrange NAS: Dell PowerVault NS120 or NX200/NX300/NX3000/NX3100/NX4 (41); EMC Celerra NX4 or NS-120 or VG2 or VNXe 5000 Series NAS or Isilon IQ S-Series (39); Hewlett-Packard (HP) StorageWorks X300/X500 Data Vault or X1000/X3000 Network Storage Systems (33); Hitachi AMS2000/1000/500/200 or WMS100 with NAS Option or BlueArc Titan Mercury 50/100; IBM N3000 or N5000 (18); NetApp FAS2000 (with NAS interface) (28); Oracle Sun Storage 71xx/72xx/73xx Unified Storage System (with NAS) (25); Overland Storage Inc. Snap Server DX1/DX2/210/410/620/650/N2000/SnapScale X2*; Panasas ActiveStor 7 Series/8 Series*; Silicon Graphics International Corp. InfiniteStorage File Serving series*; Synology Inc. RS3412 Series*
About the survey
The Storage magazine/SearchStorage.com Quality Awards are designed to identify and recognize products that have proven their quality and reliability in actual use. The results are derived from a survey of qualified Storage/SearchStorage.com readers who assessed products in five main categories: sales-force competence, product features, initial product quality, product reliability and technical support. Products are rated on a 1.00-8.00 scale, where 8.00 is the most favorable score. This is the seventh edition of the Quality Awards for NAS systems; there were 244 valid responses to the survey with 441 sets of ratings for vendors' products/product lines.
About the author:
Rich Castagna is editorial director of TechTarget's Storage Media Group.
Dig Deeper on NAS devices
PRO+
Content
Find more PRO+ content and other member only offers, here.