This Content Component encountered an error

Microsoft Corp.'s Windows Server 2012 has been awarded the gold medal in the storage system software category in Storage magazine's/SearchStorage.com's 2012 Products of the Year competition. Find out about all the top picks by reading our 2012 best data storage products guide.
Continue Reading This Article
Enjoy this article as well as all of our content, including E-Guides, news, tips and more.
By submitting you agree to receive email communications from TechTarget and its partners. Privacy Policy Terms of Use.

The many new data storage features and enhancements in Microsoft Corp.'s Windows Server 2012 caught the attention of our judges in the storage system software category of this year's Storage magazine/SearchStorage.com 2012 Products of the Year competition.
The latest version of Microsoft's server operating system earned the highest average score for functionality among the 11 storage system software finalists. Windows Server 2012 also was tops in value, ease of use and manageability, and ease of integration into existing environments. One judge cited the "great new innovations" in the product.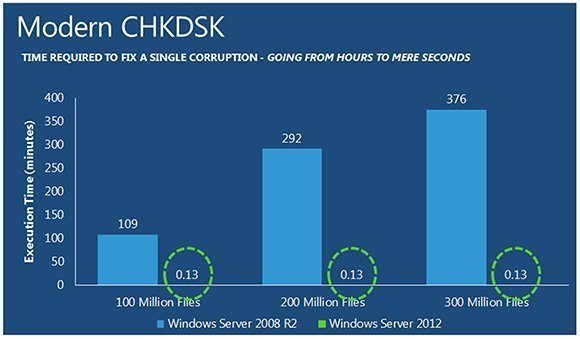 Among the most prominent new features are Server Message Block (SMB) 3.0 for high-throughput, low-latency data transfers between servers and storage; the Resilient File System (ReFS), which offers greater scalability than NTFS; Storage Spaces virtualization technology to create storage pools and enable failover between multiple nodes on commodity hardware; data deduplication; clustering enhancements; and virtualization improvements, such as live storage migration and Hyper-V Replica disaster recovery.
"This version of Windows will be very appealing to Microsoft shops," said one judge. "It fixes a lot of problems with Windows Server 2008 R2. It's faster, has better storage performance, is more flexible and it's more feature rich."
The IT manager of a Midwestern grain processing company said Storage Spaces is an important feature that will help to lower the entry cost for shared storage, facilitating a "just a bunch of disks" (JBOD) configuration.
"This is going to be huge in the SMB space," predicted the IT manager.
A senior system engineer at a large, diversified manufacturing and retail company in Eastern Europe said he's happy to have the ability to use a continuously available file server for Hyper-V workloads. "It simplifies storage management and decreases investments into an expensive Fibre Channel infrastructure," he wrote in an email.
Microsoft Corp. announced the general availability of Windows Server 2012 in September 2012. Windows Server 2012 also serves as the underlying technology for Microsoft's Windows Storage Server 2012, which is used in NAS and iSCSI storage systems sold by OEMs.
Find out the other winners in the Storage System Software category.
Dig deeper on Data management tools