Integrate cloud tiering with on-premises storage
Cloud and on-premises storage are increasingly becoming integrated. This means cloud tiering is just another option available to storage administrators.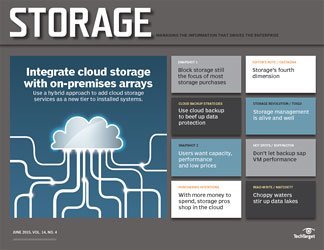 Download
Organizations aren't likely to move 100% of their data into cloud services, but most will want to take advantage...
Continue Reading This Article
Enjoy this article as well as all of our content, including E-Guides, news, tips and more.
By submitting your personal information, you agree that TechTarget and its partners may contact you regarding relevant content, products and special offers.
You also agree that your personal information may be transferred and processed in the United States, and that you have read and agree to the Terms of Use and the Privacy Policy.
of cloud storage benefits for at least some data. The best approaches to using cloud storage in a hybrid fashion create a seamless integration between on-premises storage resources and the cloud. The cloud tiering integration can be accomplished with purpose-built software, cloud-enabled applications or the capabilities built into storage systems or cloud gateway products.
Dig Deeper on Hybrid cloud storage
PRO+
Content
Find more PRO+ content and other member only offers, here.