Dell Inc. vFoglight Storage 2.0
Dell vFoglight Storage 2.0 lets users "rewind" to examine past events in storage devices, apps and servers, to find the source of a performance issue.
Dell vFoglight Storage 2.0 is the victor in the storage management tool category in Storage magazine's/SearchStorage.com's...
Continue Reading This Article
Enjoy this article as well as all of our content, including E-Guides, news, tips and more.
By submitting your personal information, you agree that TechTarget and its partners may contact you regarding relevant content, products and special offers.
You also agree that your personal information may be transferred and processed in the United States, and that you have read and agree to the Terms of Use and the Privacy Policy.
2012 Products of the Year competition. Read our best 2012 data storage products guide to get a list of all the winners.
Dell Inc.'s vFoglight Storage 2.0 won the gold in the 2012 Products of the Year storage management tools category (this year, only one prize is awarded in this category).
Version 2.0 of vFoglight Storage is designed to give server and storage administrators a common performance monitoring tool. The product is Dell's "last-mile" module for its Foglight performance management software family, which it acquired when it bought Quest Software in September 2012. At the application level of the product family is Dell's Foglight, which monitors performance from an application level through physical hardware. Its vFoglight carries that monitoring through to the virtual hardware. vFoglight Storage extends monitoring to the storage that supports the servers, to pinpoint performance problems within the storage or to help identify problems in the adjacent infrastructure that may be impacting storage performance.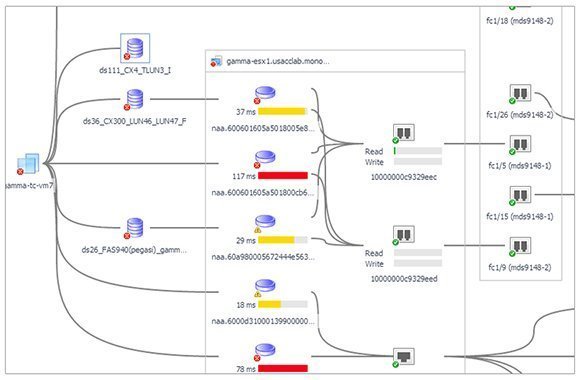 The agentless product, which is included with vFoglight, allows users to see how much I/O is being generated by each virtual machine. Its functionality is accomplished by combining metrics data from VMware vCenter, the storage array and the switch.
Dell vFoglight Storage 2.0, which shipped in early October 2012, allows users to "rewind" (like a DVR) to examine past events in storage devices, applications and servers, to determine the source of a performance problem. The new version also adds compatibility with the EMC VNX and Dell Compellent platforms, as well as data and user interface integration with Dell's vOPS Server Enterprise.
Our judges gave vFoglight Storage 2.0 the highest marks in the storage management tool category in five of the six ratings areas: ease of use and manageability, innovation, performance, ease of integration and value. One judge said vFoglight Storage 2.0 provides "excellent all-around storage and network management."
Pricing for vFoglight Storage 2.0 is $1,298 per CPU socket when purchased with vFoglight. This version of vFoglight Storage requires vFoglight Version 6.7.
Navigate back to the main Storage Management Tool category page.
Dig Deeper on Storage management tools
PRO+
Content
Find more PRO+ content and other member only offers, here.